Much needed rain will fall across the eastern parts of the country today, but the areas of NSW that are ravaged by severe bushfires will only see a few millimeters.
Torrential downpours are expected in northern NSW and southern QLD, with Bundaberg and Rockhampton predicted to be hit the hardest.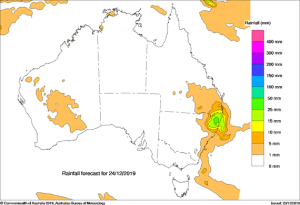 The area surrounding Lismore in the north-east of NSW is due to get about 50mm, where areas further south will get much less.
5mm is predicted in Bilpin and Gospers Mountain, west of Sydney, where the severe bushfires are burning.
'Bilpin will only get a couple of millimetres of rain,' BOM meteorologist Scott Morris told Daily Mail Australia.
'The most rain will be on the coast around Tammworth, Coffs Harbour and Port Macquarie, but the south-west of New South Wales won't see much rain at all.'