It's time to stop biting your nails as it could lead to an infection.
Karen Peat, from Scotland, took to Facebook to talk about just how bad it can get if you continue chewing them.
In the post, she says "A message to nail biters out there STOP!!!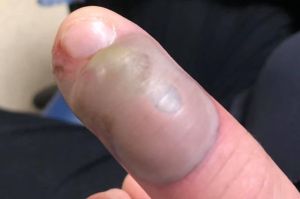 "Someone I know, who prefers to remain nameless, who bites their nails ended up having to get rushed to Glasgow Royal Infirmary today for emergency surgery because they had bitten their nails down too far and had got an infection in the finger."
Karen added: "This person had been to two chemists and spoken to two separate pharmacists over the past few days who had advised to use magnesium sulphate and keep it covered.
"It still got worse and when finally went to the A&E this morning was told if left much longer it could have been fatal as the infection was travelling up the arm hence the emergency surgery!
"So please please stop biting your nails!!"
So, time to stop.
Want more? Get more from Kyle & Jackie O!