Too much of a good thing is a FUCKING GREAT THING!
Crispy rainbow pastry? Filled with chocolate and caramel and topped with cream and toffee.
Our soul just drifted out of our body.
Available for Mardi Gras weekend only, February 28th – Sunday March 1st until they're sold out and you can bet your gay ass that they will sell out.
The Textbook Patisserie is in Alexandria and has built up quite a name for itself in the art of baking and pastry making. Doing monthly croissant specials, they've done wacky combinations like lamington croissants and BOBA FILLED CROISSANTS!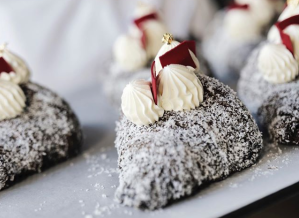 You know it's gonna be worth it. So apologise to your boss and finish up early on Friday to get in there!
Get into the Mardi Gras spirit and start blasting some fun tunes!
Want more? Get more from Kyle & Jackie O!