Yumi Stynes
So here's the thing I didn't anticipate about holidaying on a cruise ship: Once you're board you park your suitcase and basically park your stress.
There are no transfers. No racing to catch trains. There's no, "Shit! Where's my passport?!" No packing your bags, no getting lost on the way back from the hotel, no paying for food. No worries.
I'd never been on a cruise before. This was deliberate. Cruises, I thought, were what other people did.
Plus, boarding a cruise ship is quite daunting. The ship looms in the harbour like a monolithic spacecraft, and I am not convinced I belong.
But the staff serenely tick my husband, kids and I off a list as we board, smile at our two toddlers and hand us our room keys. We're in. I can't believe it.
I'm looking around like a hungry kid in Willy Wonka's factory. Everything is "extra". Extra shiny. Extra bright. Extra exciting. Extra extra.
There are glass elevators going up multiple floors and murals and gorgeous people in uniforms. WHAT IS THIS?!
We wander around looking at everything like we're tourists at the Louvre. There's a library! There's a gym! There's an actual, proper theatre! The kids are excited beyond measure and frolic around our legs like freshly shampooed puppies.
In our cabin there's a cot for Manbaby and a glorious double bed for my husband and I and a whole bed for our three-year-old.
Martin has brought two novels to read and a willingness to day nap. Me – I'm keen to take the childcare centre for a spin and find out whether a massage at sea is something I deserve.
Dinner, we soon discover, is a three-course affair (and it has to be explained to me several times before I believe it) that adds no extra cost on top of the basic fare. Even if we order extra dessert. And extra entrees. At the risk of sounding like my mother, that is pretty cool.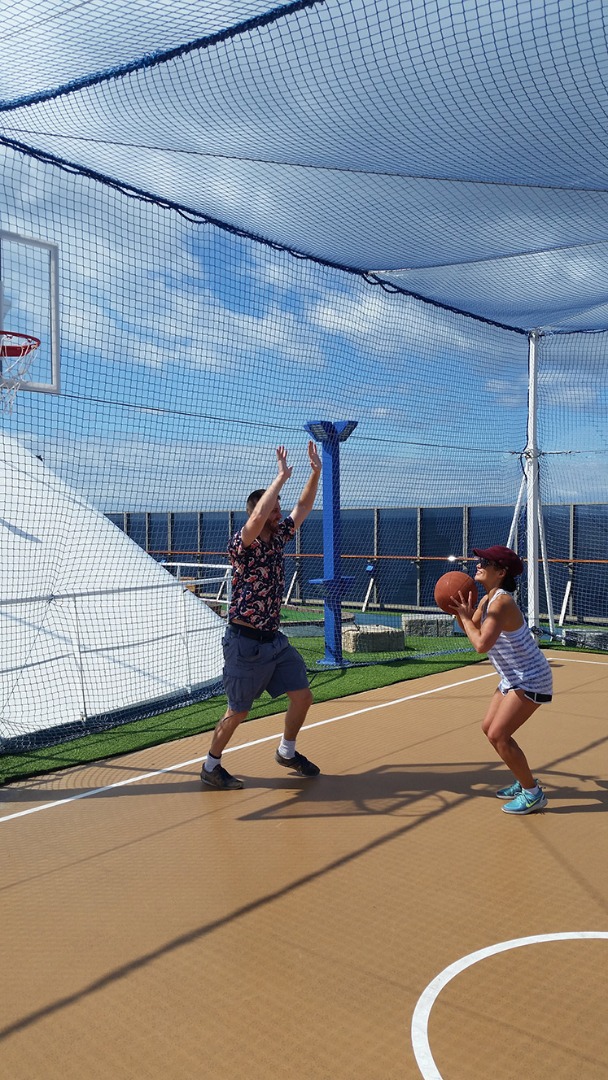 TOP 5 HIGHLIGHTS OF OUR CARNIVAL CRUISE
1. Going on the Green Thunder Waterslide. Okay, so I'm a sucker for a waterslide and this is the steepest waterslide at sea! Just don't tell anyone I did it with my eyes closed.
2. Lunch at Bonsai Sushi. It costs extra. (It's worth it.)
3. Signing up for a group fitness bootcamp class, being the only person who showed up and therefore getting what was effectively a personal training session.
4. The staff at Camp Ocean. Dropping our kids off at the child-minding facility was heaps easier when we met the carers who were genuinely into kids and kind and patient and amazing. Not kidding. The kids could have happily spent the entire time there.
5. SEEING DOLPHINS FROM OUR BALCONY! Best thing ever.