Most mums know that a family holiday can sometimes involve A LOT MORE WORK than being home. It can be tricky being away from all the things you have at home that help you parent – from little things like a favourite spoon – to big things like SCHOOL AND DAY CARE!
For this reason I view the whole "family holiday" thing with a bit of dread. It means everyone else has a great time but I am usually working furiously to keep it all running smoothly.
Anyway, work suggested I take the whole family on a Carnival Cruise because the ship has just been refurbished and is sparkling fresh. I actually went on one last year with just two of my four kids and we loved it! It was only three days but we had an amazing time.
I think there were 3 highlights:
Realising that the kid's club was totally pro and awesome – so my partner and I could leave our kids there and relax.
The food. It's good!
Getting a massage at the Spa and Wellness Centre.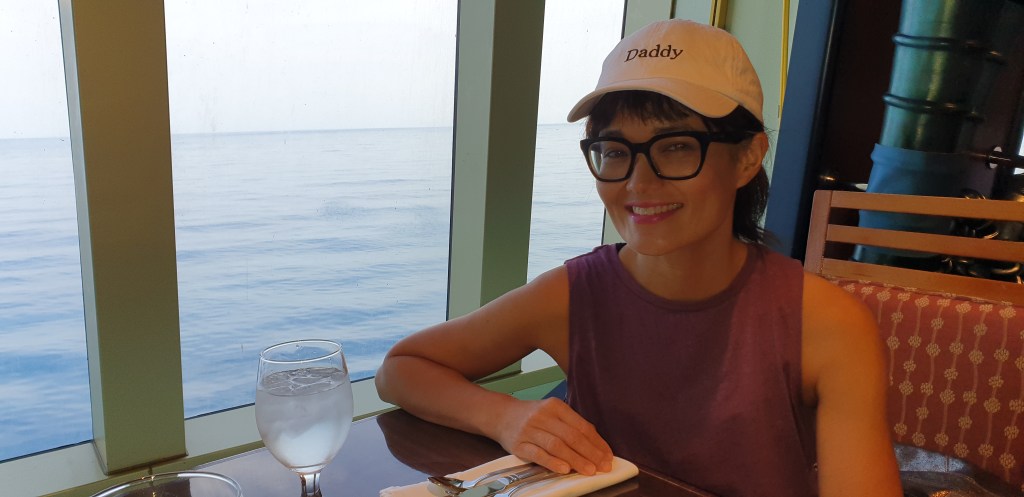 This particular trip was longer. We took 3 of our 4 kids (one had school camp).
The ship departed from Darwin, with stops at Airlie Beach and Tangalooma in Moreton Island before docking back in Sydney. I can't even begin to tell you what an experience it is entering Sydney Harbour on a giant cruise ship. I woke up early so I didn't miss a second and was so happy to see this incredible city from a completely different perspective – like, I only ever see it from land! No jokes, I was practically bursting – just feeling emotional about how lucky we are, and so deeply in love with my family.
Oh, and can I just have a little moment to brag about our accommodation? It was like someone had gone into my dreams and created a room specifically for ME. Before we left I said to Marty, "I want to catch up on sleep" AND IT ACTUALLY HAPPENED. I also will remember for the rest of my life the EXCITEMENT of the kids the first time they saw our room. Like, they were screaming. Even the teenager could not believe it. I don't know what she was expecting – a wooden barrel? A raft?
Our room had our own balcony with views out across the ocean, a private bathroom and we even had our own cabin steward. The cruise staff were SO helpful. Do you see where I'm going with this? I DID NOTHING. No cleaning, so searching, no caring, no wiping. For a week, I WAS A GODDESS.
Naturally, I wanted to find the gym, and discuss food at great length, and also work on my tan, write the book I have been working on, and sleep. (Ever since I heard the phrase "sleep deficit" it has concerned me that I need to reconcile mine.)
BESIDES catching up on sleep, I did, well, basically everything. Here are my top five favourite moments from the Carnival Splendor:
On our first day on board the Carnival Splendor we decided to kick things off without wasting anytime and so we went to the new show – the World Premiere of AIRIA. It featured an incredible Kiwi aerial illusionist called Alesiha Manion doing all of these flips and swings on ribbon high up in the air. It really left us going, "Oh my God how does she DO THAT?!" So brilliant and I know it's unrelated but right now I am googling "adult gymnastics classes".
You know I love food, so we booked in to eat at the Fine Dining restaurant Farenheit 555 on board the ship. Before we sailed, I made everyone pack a "going out" outfit which we wore out and felt very fancy! Marty, my fella loves a big juicy steak, while I had, listen to this, 2 entrees – tuna tartare AND a prawn cocktail – while for main I had a grilled lobster tail. It's called "going overboard" onboard!
Day 3 on the Carnival Splendor my partner and I specifically designated some alone-time. The kids went off to Camp Ocean, the ship's onboard childcare that specializes in caring for little ones from 2-5 years, which they loved so much they didn't want to leave! (They actually did, I wish I was joking.) Meanwhile, Martin and I went to the adults only area where we could just relax, sunbake, read a book and basically do nothing important at all and not only were we undisturbed by our own children, we weren't disturbed by anyone else's as well! It was THE. BEST.
Okay, so I really love a waterslide. And I was dead keen to try ALL the slides onboard the Carnival Splendor because there's quite an assortment and there's even one that's kind of famous: it's called the Green Lightening. It holds you in this kind of capsule-chute, where you have to cross your arms over your chest, then the floor falls out from under your feet and you DROP DOWN this vertical slide drop SCREAMING YOUR HEAD OFF. It was BRILLIANT and I am jealous of every person who hasn't done it yet who gets to do it for the first time.
Finally, there was a 24/7 ice-creamery. My teenage daughter and I discussed at length what exactly would be the perfect time to test out whether or not it really is open 24/7. We waited until our last night onboard to creep out of our rooms and head there at 2am and sat there on the deck in the dark, listening to the sound of the ocean and the chink of our spoons in our bowls of nutty chocolate topping-topped icecream and reflected on what it means to live your best life.
What an experience. *SIGH* I already can't wait to book my next trip on the Carnival Splendor. Hopefully with all four kids and my Mum next time! In fact, can we just live on board for, like, ever..?
Yumi x