It's fair to say that Kmart has taken over Australian households over the years. It's true when they say that you walk into the store for one thing and come out with a whole lot more. Who can resist a $2 candle?!
Today, a complaint resurfaced from a disgruntled man who took it out on the chain for enabling his fiance's new shopping obsession.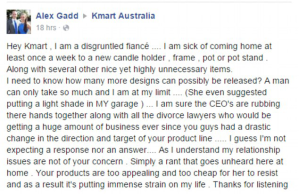 It reads…
"Hey Kmart, I am a disgruntled fiance… I am sick of coming home at least once a week to a new candle holder, frame, pot or pot stand. Along with several other nice yet highly unnecessary items.
"I need to know how many more designs can possibly be released? A man can only take so much and I am at my limit (she even suggested putting a light shade in MY garage).
"I am sure the CEO's are rubbing their hands together along with all the divorce lawyers who would be getting a huge amount of business ever since you guys had a drastic change in the direction and target of your product line.
"I guess I'm not expecting a response nor an answer, as I understand my relationship issues are not of your concern. Simply a rant that goes unheard here at home. Your products are too appealing and too cheap for her to resist and as a result, it's putting immense strain on my life. Thanks for listening."
Kmart did see the response and delivered this powerhouse reply…

"Hi Alex, we're so sorry to hear that our highly appealing homewares and everyday low prices are driving a wedge between you and your fiancee.
"Installing one of our stunning lamps in your garage does seem potentially relationship-ending, and we're pleased to hear it hasn't yet come to this.
"Unfortunately, we do have new products coming out all the time and the likelihood of them arriving in your home seems high – it may be worth investing in some kind of blindfold before this happens." BAM!
If that whole story isn't relatable, I don't know what is!
Love this? You'll love this bit from Will & Woody – catch the boys weekdays from 4PM on KIIS 1065