Pornhub's Insights for 2019 are already pretty revealing, the biggest takeaway being that when people get bored or are temporarily unemployed or simply cold, they watch porn.
I mean, duh.
In a nutshell, the insights reveal that the recent US government shutdown + a polar vortex = porn.
In Washington DC alone, the site reported increases of up to 50% during times that people would normally be at work.
Meanwhile, over in the Midwest, the weather, which was at one point was reportedly colder than Antarctica, drove Pornhub's traffic up by 22%.
Thing is, the last time Pornhub went *ahem* balls deep on Australian stats was in 2015.
And if that round-up is anything to go by, Australia is very, very due for a spike in porn use.
Compared to an average day, the biggest dips in traffic are:
– New Year's Eve (-52%)
– Christmas Day (-28%)
– Queen's Birthday (-14%)
However, it seems we're a confused bunch around Easter.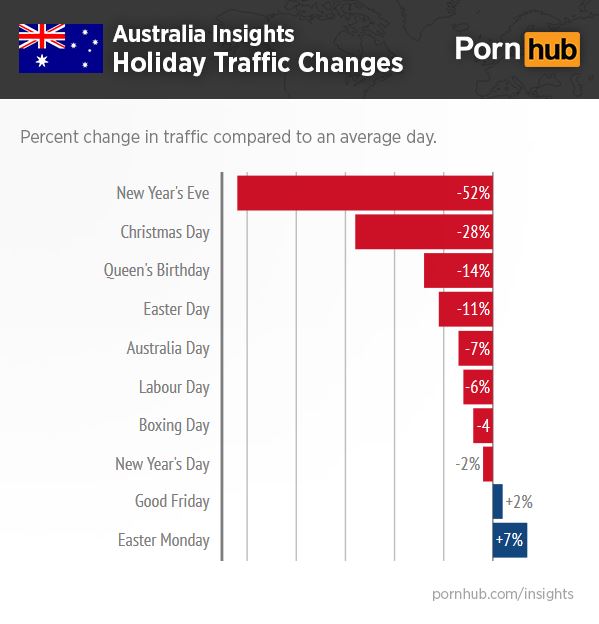 While Easter Sunday experiences an 11% drop in traffic, Pornhub reports a 7% increase in traffic on Easter Monday, you know, the very next day.
Swings and roundabouts, eh?
Good Friday also proves pretty good for traffic, with a 2% spike compared to an average day.
So, with that in mind… we found a way to extend your Easter break by turning three days into 10 consecutive days off.
Want more? Get more from Kyle & Jackie O!