A letter to my teenage self
Hello young Polly,
It's your future self here: 29-year-old Polly. I'm nearly 30 and I am not married, don't have kids and still haven't bought a house yet.
You probably thought I would have achieved at least one of those things but I haven't… and you know what… it's okay. In fact I couldn't be more happy with where I'm at.
Throughout life though (trust me), you will definitely feel the pressure to follow what society tells you.
Screw it.
If you don't get a boyfriend when everyone else has one, that's fine. If you don't go to the same uni that your friends are going to, that's okay, too.
Just because everyone else is doing something, doesn't mean you have to oblige. The most important thing you can do is listen to where your heart leads you.
The worst thing you can do is compare yourself to others. Because trust me little Poll, we all are taking part in different races.
Just because someone in your field or class has success, don't be threatened. It will be so easy to feel insecure at any given opportunity. Instead of comparing their achievements to yours, try your best to be motivated by how well they are doing, and genuinely be happy for them. If you focus too much on them you will lose sight of your true potential.
I know you don't feel confident standing your ground, and your number one priority is to please others. Drop that.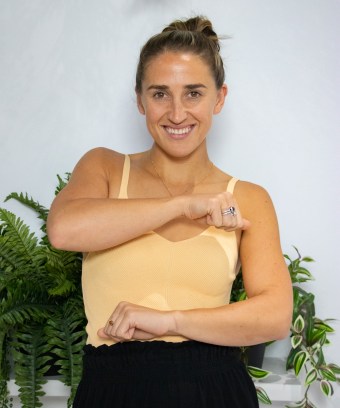 Your opinion matters and you are valued and you deserve to be heard. And while hiding behind a blonde facade works for you now as a defense mechanism, please know that you are a lot more than that. You won't always get things right but at the end of the day, it's about experience and learning from your mistakes. If you don't stuff up, you won't ever learn.
There will always be pressure to look a certain way, act another way and do things to fit in.
Just remember that what makes you beautiful is that there is no-one like you. We have been conditioned to listen to every company under the sun, telling us what we are lacking, what we need more of and why we are insignificant.
You are always enough just on your own.
Work out how your different friends make you feel. The ones who revel in your weirdness are the keepers. The ones who don't judge and are constantly by your side are in for the long run. Keep them close. They will know what's best for you and will keep you sane during hard times.
As for boys, stop thinking that just because the guy you're into is keen on the 'hot girl at school', that you need to change your looks, your personality and that something is fatally wrong with you. It's not about you and it never is. It's just not right at that time.
While people might tell you you need to be 'sexy' or 'ladylike' because girls don't do that, don't change yourself just to fit a stereotype.
When you eventually meet your match, things will just feel right and you will think 'why did I try so hard' with other guys for so long when they weren't even keen
But until that happens, please don't beat yourself up every time a relationship fails. You need to love yourself before you can fully love someone else.
What words are you constantly saying to yourself? Are they words you would say to a close friend? Be kind, be gentle and always always back yourself.
You're in for a wild ride Polly Harding, enjoy it!
Today is International Women's Day.
An equal world is an enabled world. How will you help forge a gender equal world?
Celebrate women's achievement. Raise awareness against bias. Take action for equality.
iHeartRadio is celebrating International Women's Day by showcasing podcasts made by, and for, women: