We've all done it. Come home from an event or a night out, brushed our teeth, hopped into our pyjamas, and straight into bed only to minutes later remember that you forgot to wash your makeup off.
No one wants to get out of their warm bed once they've already snuggled beneath their doona and so often we'll just go straight to sleep without a care in the world, telling yourself you'll wash your face properly in the morning.
But we have to say, after hearing the story of Theresa Lynch, a 50-year-old woman from America, we will never ever go to sleep without removing our make up ever again!!
According to a case study published by the American Academy of Ophthalmology, Theresa wore heavy eye makeup each day for 25-years but she did not properly remove it each night.
Theresa sought medical attention when she began experiencing painful irritation, discharge and swelling around her eyes. And what they discovered may just turn you off from putting makeup on your eyes ever again…
Underneath Theresa's eyelids were hard, black bumps known as subconjunctival concretions embedded onto a very red and clearly irritated surface.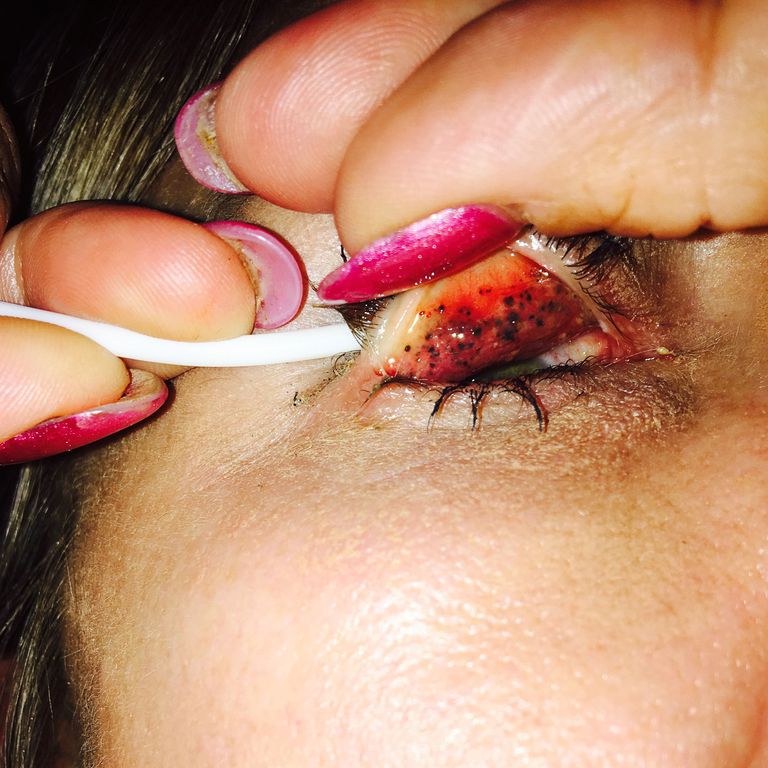 "[The lumps] were embedded so deep that particles were building up on top of each other," said Theresa to the Daily Mail. "I was so uncomfortable. My eyelids were swollen and heavy because I left it for so long."
Theresa's ophthalmic surgeon, Dr. Dana Robaei said that her condition could've had been much worse if it hadn't been treated. The bumps were rubbing the surface of her eye if any of these scratches were to have gotten infected Theresa could've easily lost her sight completely.
Thankfully, Dr Robaei was able to remove the buildup from underneath Theresa's eye, but she has been left with permanent scarring.
"I had fallen into a bad habit of wearing a lot of makeup and not washing it off," said Theresa. "I should never have let it get this far."
And on that note, we're off to stock up on as many makeup removal products as we can possibly get our hands on…
SOURCE: Cosmopolitan
Want more? Get more from Kyle & Jackie O!