Let's face it, more often than not we tend to ignore our feet. Perhaps a quick coat of nail polish and a scrub here and there, but that tends to be it.
But according to She Finds, our feet can actually tell us a lot about ourselves if you take them time to inspect them.
And if feet don't freak you out – it may just help you learn a bit more about those around you!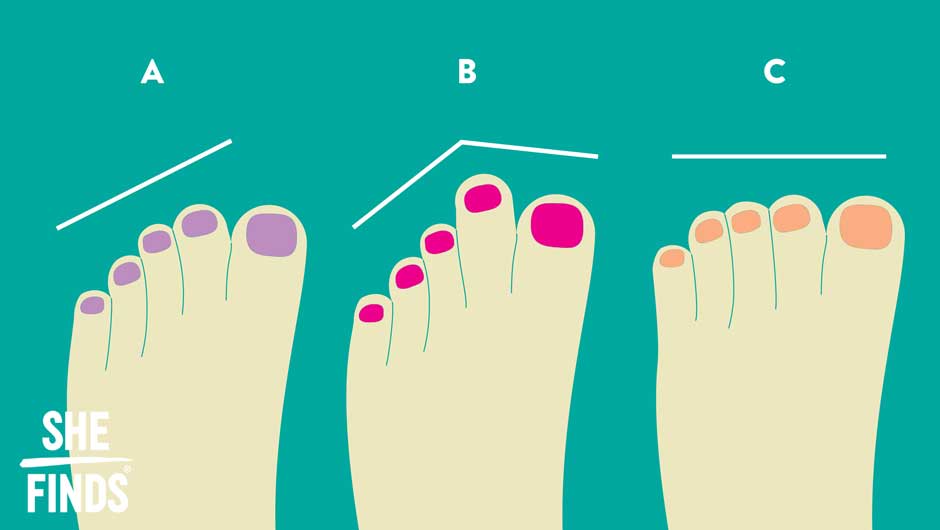 A: You are BALANCED and SOCIAL
Do your toes tend to decrease in height from your big to small toe? Apparently this is an indication that you are a well-balanced person according to She Finds.
You also don't mind a chat, have no qualms meeting new people and are open-minded, although your friendly demeanor has been known to occasionally get you into a jam.
B: You are CREATIVE and ENTHUSIASTIC
Is your second toe an attention seeker that likes to stick out above the rest? Well according to She Finds your toe is representative of a creative mind.
On top of being creative, you love to learn and enjoy the challenge of being able to work out how to do things on your own. However, beware because that sense of eagerness can create extra stress and prove overwhelming. The good news is, you also know how to chill out whenever this does happen.
C: You are RELIABLE and CAUTIOUS
Are all your toes roughly the same height? Well this could be a good indication of your loyal personality according to She Finds.
You're level-headed making you a reliable person who can be counted on – even in the most unpredictable of situations. Just be careful though that it doesn't hold you back. While you can be convinced to go outside your comfort zone by a person you trust, don't let this be the only time you do.
Love this? You'll love this bit from Will & Woody – catch the boys weekdays from 4PM on KIIS 1065