An exchange between a spray tan operator and a potential client is causing uproar online over an unheard-of pricing policy.
The Facebook Messenger text starts with an inquiry regarding the price of a spray tan from a prospective customer.
The reply started off as pretty standard, the service would be $35.
The person inquiring about the tan was then asked what size she was.
She replied: "Oh haha, I'm a size 10-12 AU why is that?"
The operator said that her regular clients were, at maximum, a size 8 and explained that she would be charged $20 extra "as there's more surface area, if you know what I mean".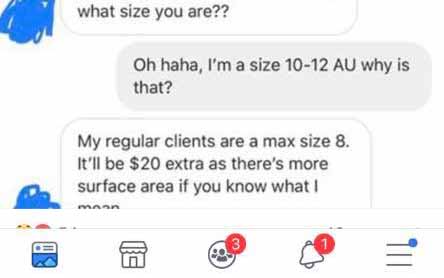 A repost of the exchange has sparked a stir online, particularly as spray tanning is usually a set price and isn't charged by surface area.
Of the hundreds of responses on Facebook, no one had heard of charging extra over size. Not even other spray tan operators.
Here's a snapshot:
– Wow! I am a qualified spray tan tech and would never charge extra because of size, clients pay for the service not the product
– I'd want to know how she worked out her fees. I hope the client replied and asked her to mathematically prove that $20 extra correlates exactly to the additional surface area.
– In that case my spray tan would cost my fat ass $125
– You don't pay more for a size 14 dress than a size 8. Not does someone weighing 150Kg pay more to fly that someone who weigh 60kg. It's blatant discrimination.
– Holy shit – I've been doing spray tans for 8 years and never in my life have I ever ever ever even thought to ask this
– It couldn't take her more than 1 minute longer and 50c more tanning solution
– I'm seriously stunned! God!!! I used to be over 100kg I'm now 70kg with a mummy tummy and excess skin… I wonder what I'd be charged
– Is she gonna charge someone more for being over a certain height too 'oh my clients are max 5'7, that'll cost you can extra $20'
– id ask for a saving as I have small feet for my height…and small hands… lol
– Yes I spray tan for 10 years now. This is ridiculous. Figure out your profit margined and there is no need to adjust price for a bigger person. How stupid. You could apply this to any body beauty service! A massage, wax, laser. Stupid.
What are your thoughts?
Love this? You'll love this bit from Will & Woody – catch the boys weekdays from 4PM on KIIS 1065