We always know that Kyle and Jackie O's Right or Wrong segment is going to bring up something rather controversial, but we have to say, today's topic really got a lot of our listeners fired up!
Ex-model, Carla Bellucci, was at the centre of the conversation today after she revealed something rather alarming about her 14-year-old daughter.
The 37-year-old mum has started a bit of a conversation online after she revealed that she wants her teenage daughter Tanisha to get plastic surgery in a bid to make her look prettier, having recently claimed that "ugly people get nowhere these days".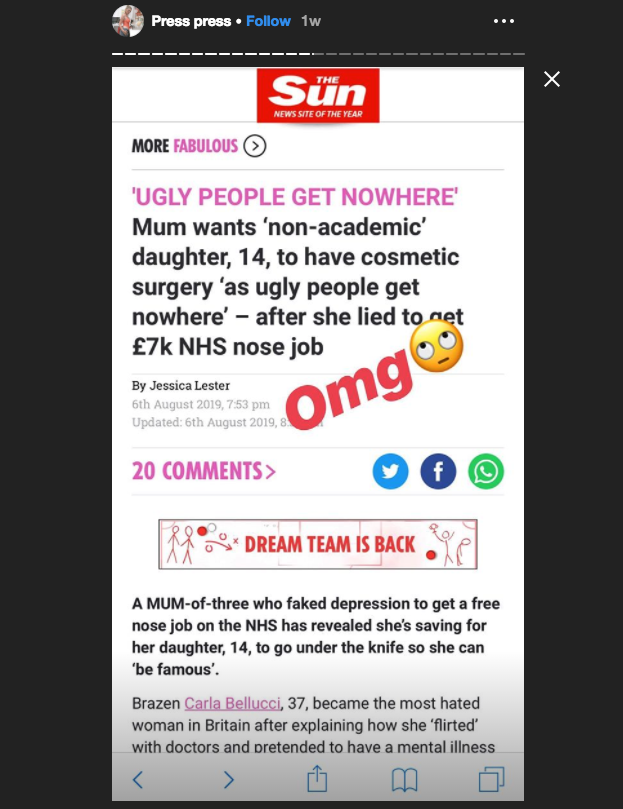 In fact, Carla has been putting money aside for when Tanisha turns 16 so that she can get fake boobs, teeth veneers and a Brazilian butt lift.
It was quite clear that our very own Jackie O, who is a mother herself, didn't agree with Carla or understand why she would want this for her daughter from the get go.
"Now, her daughter is absolutely gorgeous," Jackie explained at the start of the segment. "Naturally beautiful, should not change a thing. And as a mother, you should be telling your daughter that because she is going to have major insecurities based off the fact that mum doesn't think that she's pretty enough."
Here's what our callers has to say about this! (Story continues below)
Both Kyle and Jackie were also adamant about the fact that despite being already beautiful, as she is only 14, her facial features and her body are still developing and will continue to change for some time.
Despite having our own opinions, we decided to get Carla on the phone to discuss her point of view and to find out what our listeners thought about it.
Basically, Carla told us that she's not pressuring her daughter and that Tanisha really wants to get the procedures done because she wants to become a reality TV star.
Having had cosmetic treatments done herself, Carla explained that she wanted to support her daughter in doing the same.
"She is a beautiful girl, it's just that she is desperate to become a reality star and she looks up to people, i.e the Kardashians… and she's a slim girl and she's desperate for a butt lift and I said I will help fund that and I will save money and support her," Carla told us.
Carla also explained that the actual surgery, for breast implants and a butt lift won't happen until she's 18, but at 16 she will be able to get lip fillers and botox.
"If she wants to change her mind, then that's fin, but I'm saying if she's still this head strong, I will support her in it, and we are saving up for this surgery to have as a little fund in case she does need to have it," Carla added.
"She's not the most intelligent with her school work, so if she wants to go with her looks and end up doing reality TV I'll be happy to support her."
Despite Carla claiming that she's only supporting her child's wishes, Jackie argued that as her mother, she shouldn't be encouraging these types of ideals and the need to get surgery. She believes that she should instead be celebrating her daughter's natural beauty.
"You're grooming your 14-year-old to be a reality star and to get plastic surgery so that she gets on those shows," Jackie said. "Aren't you worried about the message that's giving your daughter?"
"She knows I love her but if she wants to get on these shows, that is the look," Carla replied. "If it's going to make her happy I'm happy to support her."
https://www.instagram.com/p/Bw9b-S9HLfW/
It's safe to say that as soon as Carla finished explaining her point of view, our phones began rising off the hook from people with their own opinions.
We heard from people who thought that Carla should not be supporting these types of goals for her daughter and others who thought that the money they were saving should instead be going to furthering Tanisha's education.
What do you think? Is Carla right or wrong?
Want more? Get more from Kyle & Jackie O!