Love like this is the ultimate goal.
After 59 years of marriage, Don and Margaret Livengood spent their last living moments side by side, holding hands in a hospital room.
Margaret, 80, was suffering from cancer, while Don, 84, was battling pulmonary fibrosis and bilateral pneumonia.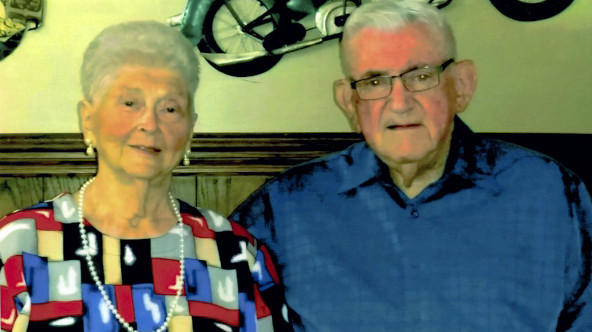 According to the Salisbury Post, hospital staff pulled strings so the couple could share their final days together and 'positioned the couple's beds so they were facing each other. They were close enough that Don, 84, and Margaret, 80, could slide the fingers of their nearest hands together, even with all the tubes and tape.'
The lovebirds held hands continuously over the next few days and died just hours apart.
Margaret passed away before 8 AM on August 19.
Just before 6 PM that same day, Don followed her in death.
Just before he passed, Don told his family that he was looking forward to joining Margaret in heaven and that "When we get to heaven, we can walk in together, just like we're getting married again. Another honeymoon,"
(Don and Margaret on their wedding day)
Don's son, David Livengood, told the Salisbury post "It's the first time I've seen doctors and nurses with tears in their eyes,"
This is what true love is all about!
Photos: Salisbury Post/Livengood Family
POPULAR VIDEO: Flower girl can't sit still – even during the wedding vows!
Want more? Get more from Kyle & Jackie O!