What's the first thing that you notice about someone before having a conversation with them? Is it their eyes? Their hair? Their glowing skin? Well I bet a lot of you answered, their smile.
For me it's the first thing that I see when I look at someone and of course I assume that in turn, it's likely something that people often notice about me. Therefore it's no wonder that one of my biggest insecurities just happens to be, you guessed it, my smile.
As a teenager I went through the whole braces and plate phase to get these bad boys as straight as can be but something that has always been a bit of a hit and a miss for me was keeping my teeth white. Most likely because I'm a bit of a sucker for an extra strong coffee to get me through the morning and a cheeky red wine or two to warm me up on a cool winter's night.
If you're anything like me, it's likely that you too have thought through all of the options to help keep your teeth sparkling white. Of course there's professional whitening at the dentist, but this can cost you up in the thousands to have done.
Then of course there's the shelves upon shelves in the supermarket of products available, claiming to make your pearly whites, well, actually white, but unfortunately not all of them are all that they're cracked up to be.
So what option do you have left? Well, I was having a sneaky scroll through Instagram the other day when I noticed that all of the big influencers out there that I follow, including the top dog herself, Kylie Jenner, all use this one product known as HiSmile.
Most likely you've seen it too. You know that little light up machine that people sit in their mouth and post selfies with? Well, the HiSmile brand boasts about giving you whiter teeth in just 10 minutes and at just a fraction of the cost of a professional job!
Of course my first question was, does it actually work? Well I decided to get one of the little kits and try it out for myself and of course review it for you guys so that you know exactly what you're in for if you feel like purchasing one for yourself.
About HiSmile:
Before using the teeth whitening kit, I decided to do a bit of reading up on the product, you know to make sure it was all legit and wasn't going to make my teeth fall out or something gruesome like that. (I PROMISE IT DOESN'T!) After all you can't always trust everything you see on Instagram. But as it turns out, HiSmile is actually a vey highly regarded company!
The company was actually founded by two young Aussies who practically built it from the ground up to the multi-million dollar business that it is today. The product claims to whiten your teeth in just 10 minutes and they guarantee that you will 100% see results, or else you can get your money back! (Looking pretty darn promising so far!)
The HiSmile kit uses a gel and LED light system to gently whiten your teeth while maintaining no damage to the enamel. In just six applications, the product promises to improve your teeth by a minimum of 2 shades. And you can do it all from the comfort of your own home!
After reading all of this I was feeling pretty confident and actually really excited to start my treatment and so it was all systems go on the HiSmile teeth whitening!
How To Use It:
When you purchase the HiSmile Kit it comes with everything that you need including The LED light and battery, HiSmile gels, mouth tray, instruction manual and even a handy little results chart that helps you assess the difference the treatment makes to your teeth.
Inside Your Kit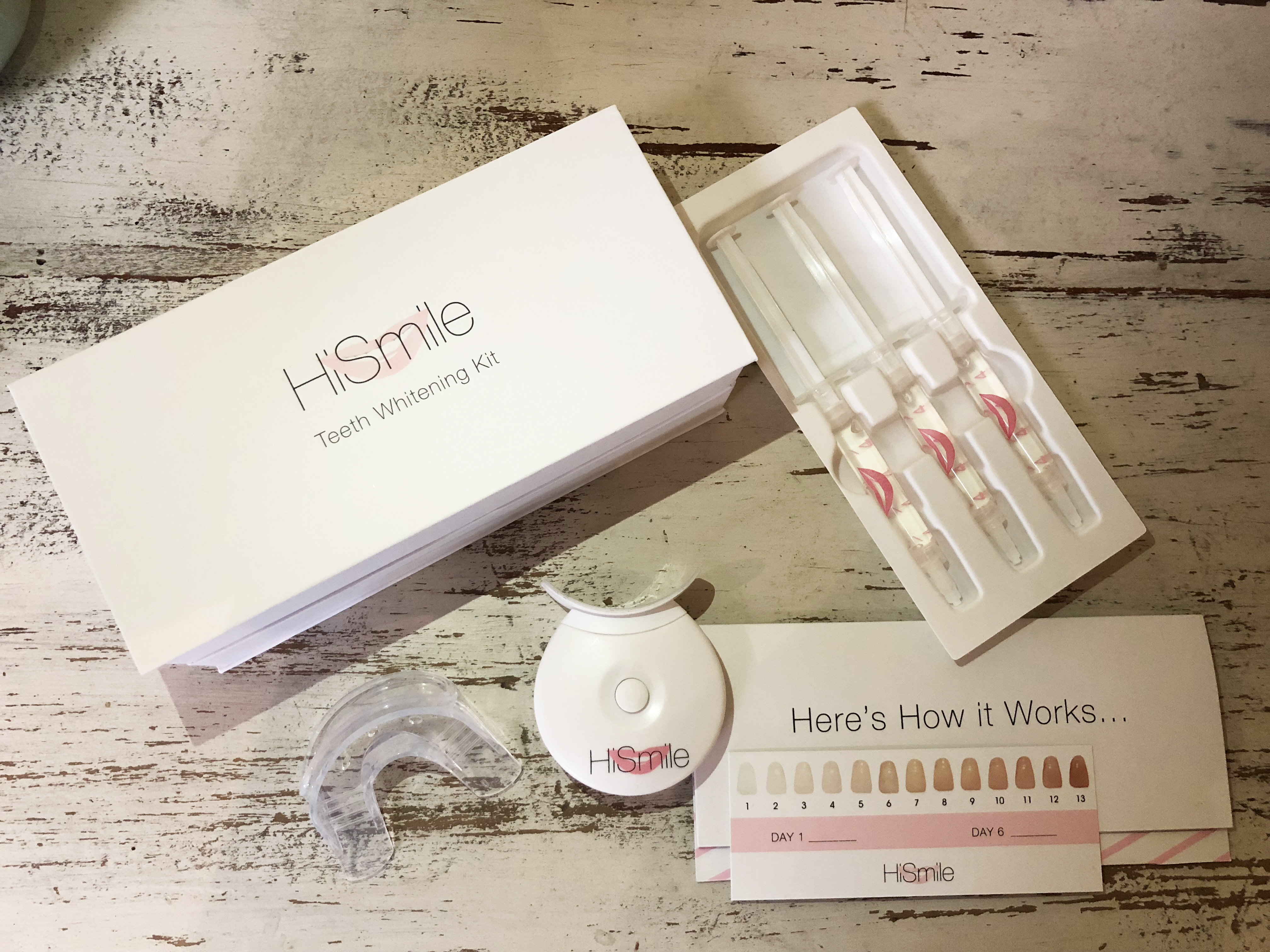 Okay no here's how it all works.
Step 1: Gently brush your teeth beforehand with toothpaste to make sure they're clean
Step 2: Open the battery compartment on the LED light. Remove the plastic from the battery and reinsert the battery
Step 3: Attach the mouth tray to the LED light (it should just slide on really easily)
Step 4: Apply 1/4 of a syringe of whitening gel to the top and 1/4 to the bottom of the mouth tray
Helpful hint: The syringes have little caps on them. Don't make my rookie error and assume this is part of the syringe and push as hard as you can on the stick until the gel explodes out of the top from all of the pressure. This is definitely NOT what you want!
Step 5: Place the mouth tray in your mouth making sure it's firmly against your teeth, press the button on the LED light (a blue light will turn on) and leave in until the light turns of (about 10 minutes)
Step 6: Rinse your mouth with warm water to rid of any residue. You should also remove the mouth tray and give this a quick rinse too.
Step 7: Smile!
Then repeat each day for the best results!
My Experience:
As I said before I was feeling pretty excited to give the HiSmile a go and really at this point I was willing to try anything to get rid of the stains and imperfections on my teeth. This is how my teeth looked on day one before any treatments:
Before Any Treatment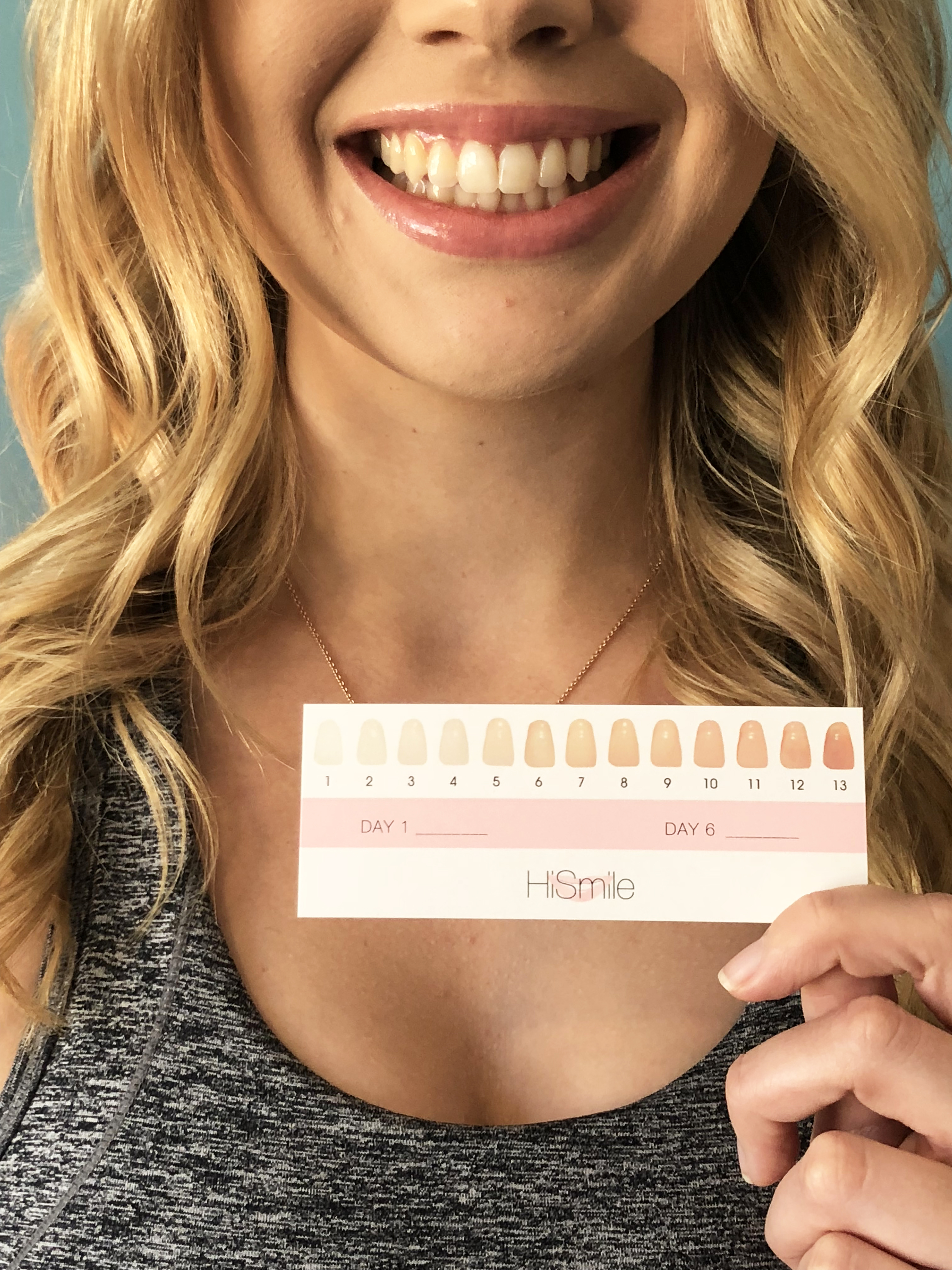 Judging by the chart in my kit I would say that my teeth were a bit in-between a five and a six. So not too horrible but also not as good as I would like. The stains mostly affected my top, side teeth but overall I really just wanted to improve the brightness of my entire smile.
I completed my HiSmile treatment over six days. I found that it was easiest to do at night after dinner and just before heading off to bed.
I really loved how simple it was to apply and how you could just pop it in and do anything you needed to for the ten minutes while the LED light worked it's magic. I could easily catch up on a few emails, apply my skincare routine, and pack my bag for the next day in the comfort of my pyjamas, all while completing my treatment.
I also never noticed any increase in sensitivity to my teeth throughout the process of whitening or any sort of bad side affects. The only change I noticed? They definitely did get whiter!
Every day I was noticing that my smile looked noticeably brighter than the day before. By day six, my teeth had improved from the 5-6 that they started out as to a solid 3 on the results chart.
After 6 Days Of Treatments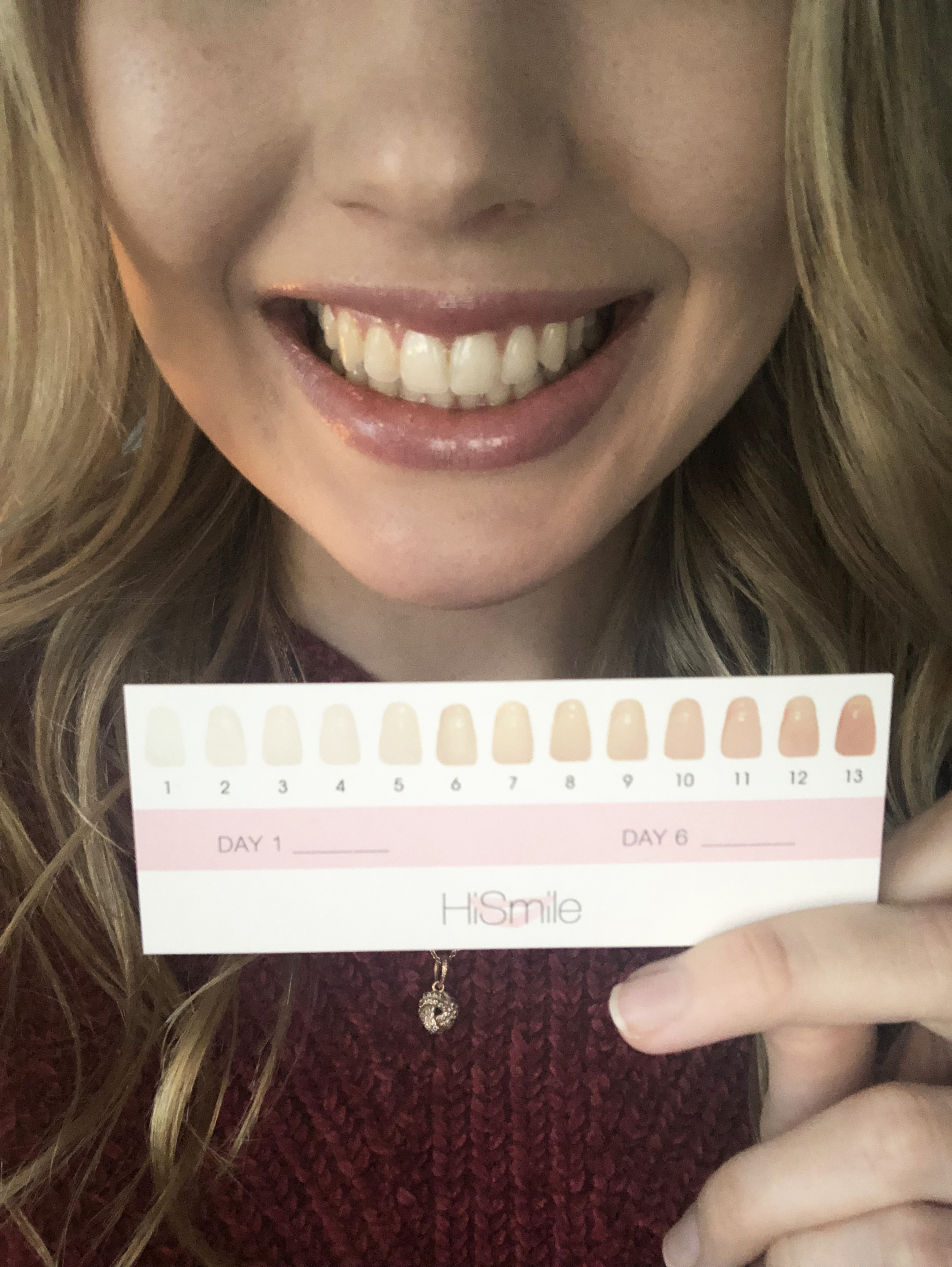 Granted my stains hadn't completely disappeared, but as promised my teeth improved by the two shades that I was guaranteed and I feel as though if I were to keep going with the treatments they would only get better from there. And you can bet that I'm definitely going to continue after these results!
So there you have it, the cold hard tooth (sorry I had to). The HiSmile isn't just a fad on Instagram. It's a legitimate option for people wanting to whiten their teeth and see real results.
I am so impressed with my own treatment and I now feel so much more comfortable in my smile! Would I recommend it to anyone wanting to improve their own smile? Absolutely!
Want to purchase your own HiSmile kit? You can do so via their website here.
Before And After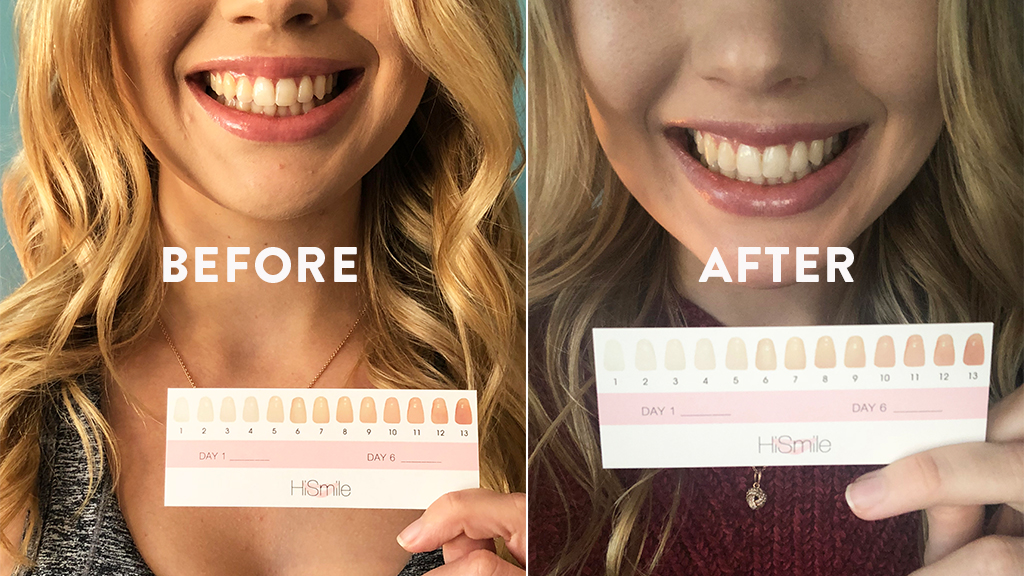 Want more? Get more from Kyle & Jackie O!