Royal fever has been settling in Australia for just over a week now and while we're getting accustomed to seeing glimpses of arguably our fav royals roaming around the tourist hotspots of our beautiful country, one thing we're constantly being surprised by is Meghan Markle's incredible style.
Every single time the Duchess of Sussex has stepped out for one of the couple's many royal engagements she is absolutely glowing! And it's not just because she's pregnant. This girl has some serious fashion sense that we are just DYING to replicate!
Where you can buy all of Meghan markle's aussie royal tour outfits
Meghan has chosen to wear a number of Aussie designers and brands while on the royal tour Down Under and if you're like us, scrolling through the many pictures of her and thinking, 'Damn I want that!' then we have good news!
We've compiled a list of where you can buy all of Meghan's incredibly chic looks from her time in Australia for you to peruse through below! Think of it as a one stop shop royal look book!
Happy shopping royal fans!
DAY 1
Outfit: Karen Gee Blessed Dress, $1,800
Meghan wore this gorgeous cream form-fitted dress paired with a high brown tench coat on the first official day of her and Harry's first day of official royal engagements in Sydney. It was also the day after Kensington Palace announced that Meghan was pregnant. Simply stunning!
Day 2
Outfit: Boss Oversized Blazer By Serena Williams, $145
Harriet High Rise Jeans In Black, Outland Denim, $199.90
Maison Kitsune Long-Embroidered Cotton Oxford Shirt, $219
Black Suede J.Crew Boots, $178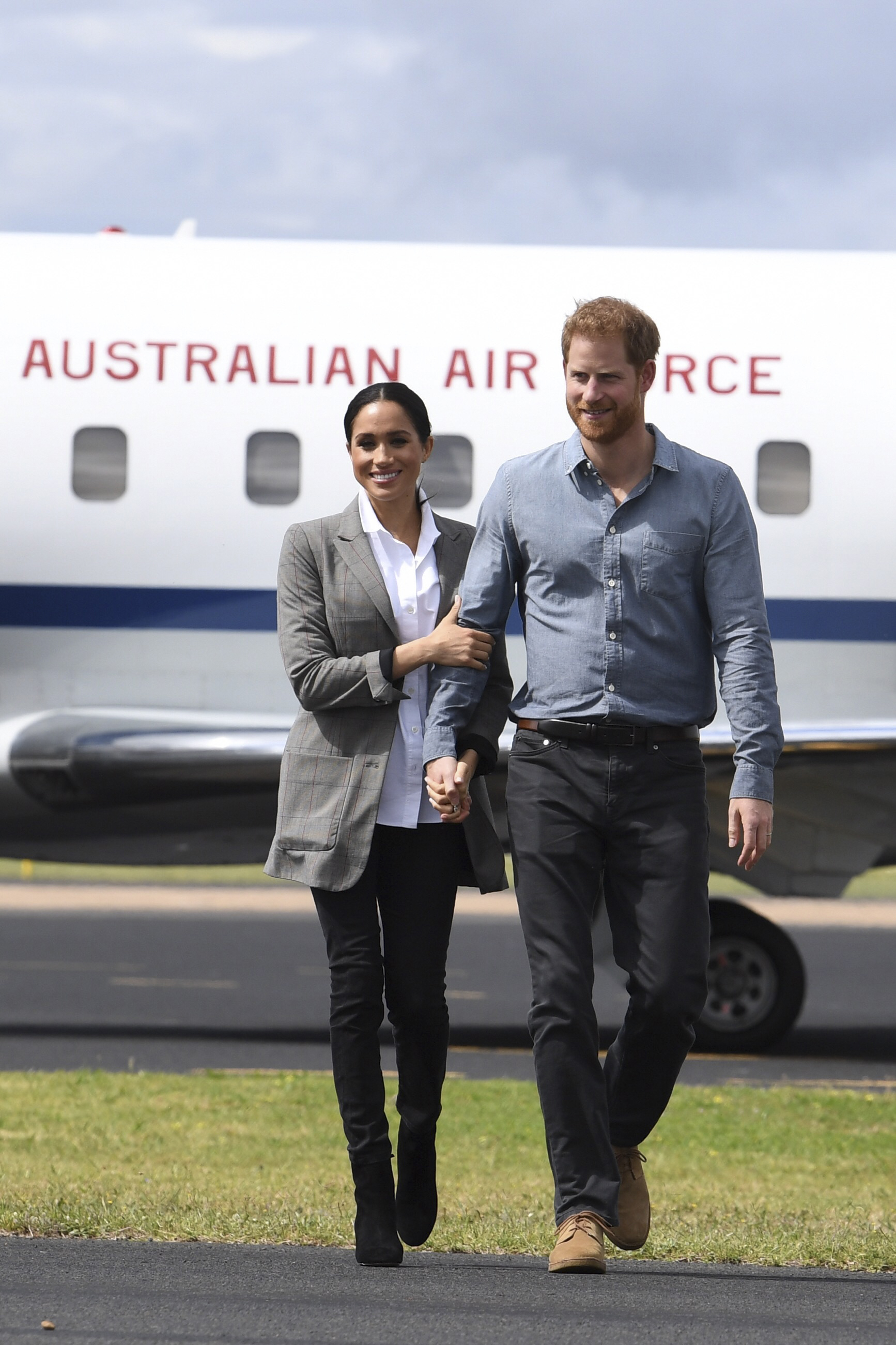 Meghan rocked a casual jeans look when walking off the plane in Dubbo on day 2 of the royal tour! Not only did she look incredible but she also proved that she's got a heart of gold by choosing to wear Aussie brand Outland Denim, a company that works towards helping woman in Cambodia find safe employment.
Day 3
Outfit: Dion Lee Folded Sailor Dress in Navy, $990
Manolo Blahnik Pumps in Navy, $936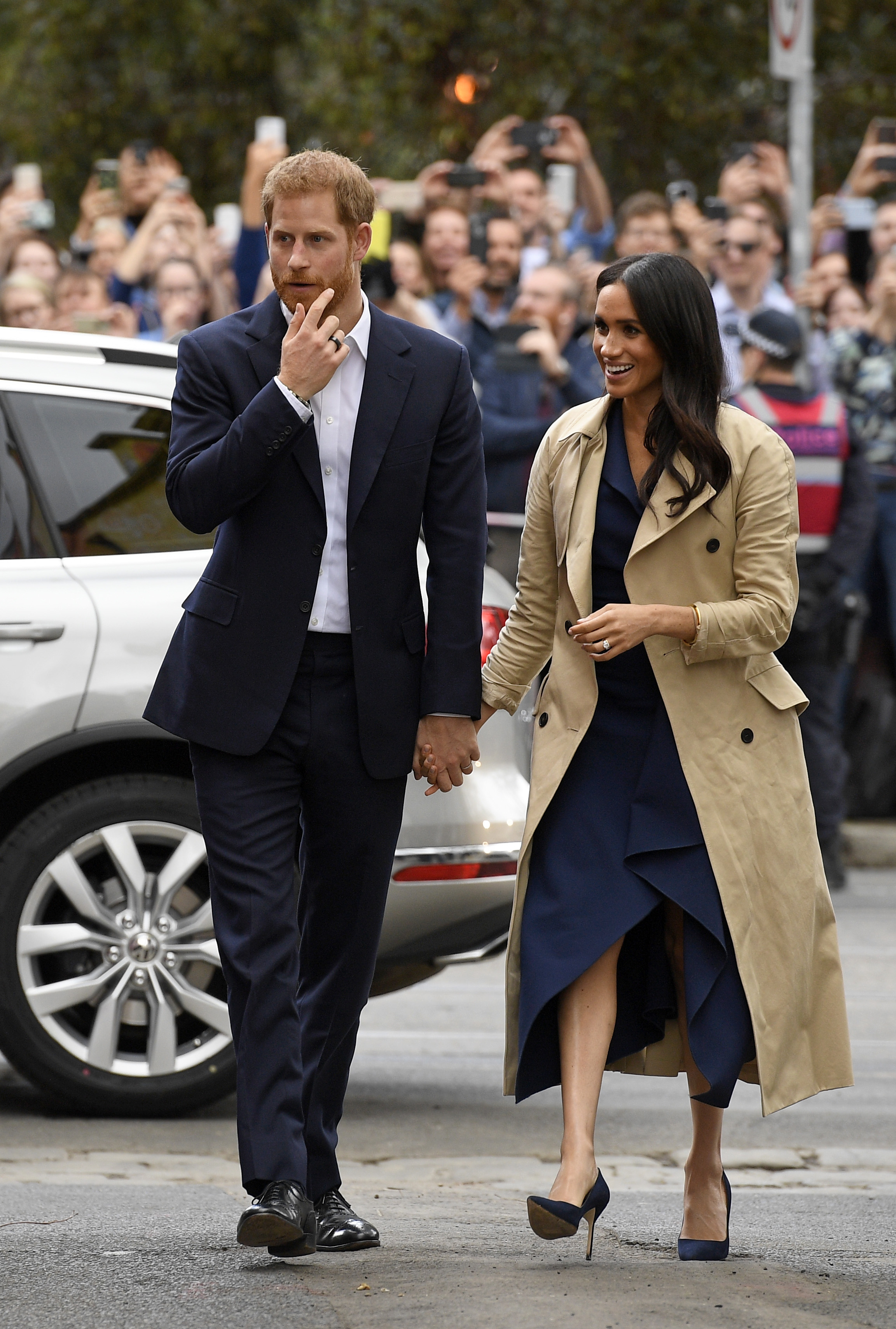 On Day 3 Meghan and Harry jetted off to Melbourne and she was an absolute vision in all Navy everything! If you're looking for an outfit for work functions formal luncheons this look is perfect for you!
Outfit: Club Monaco Miguellina dress, $520.41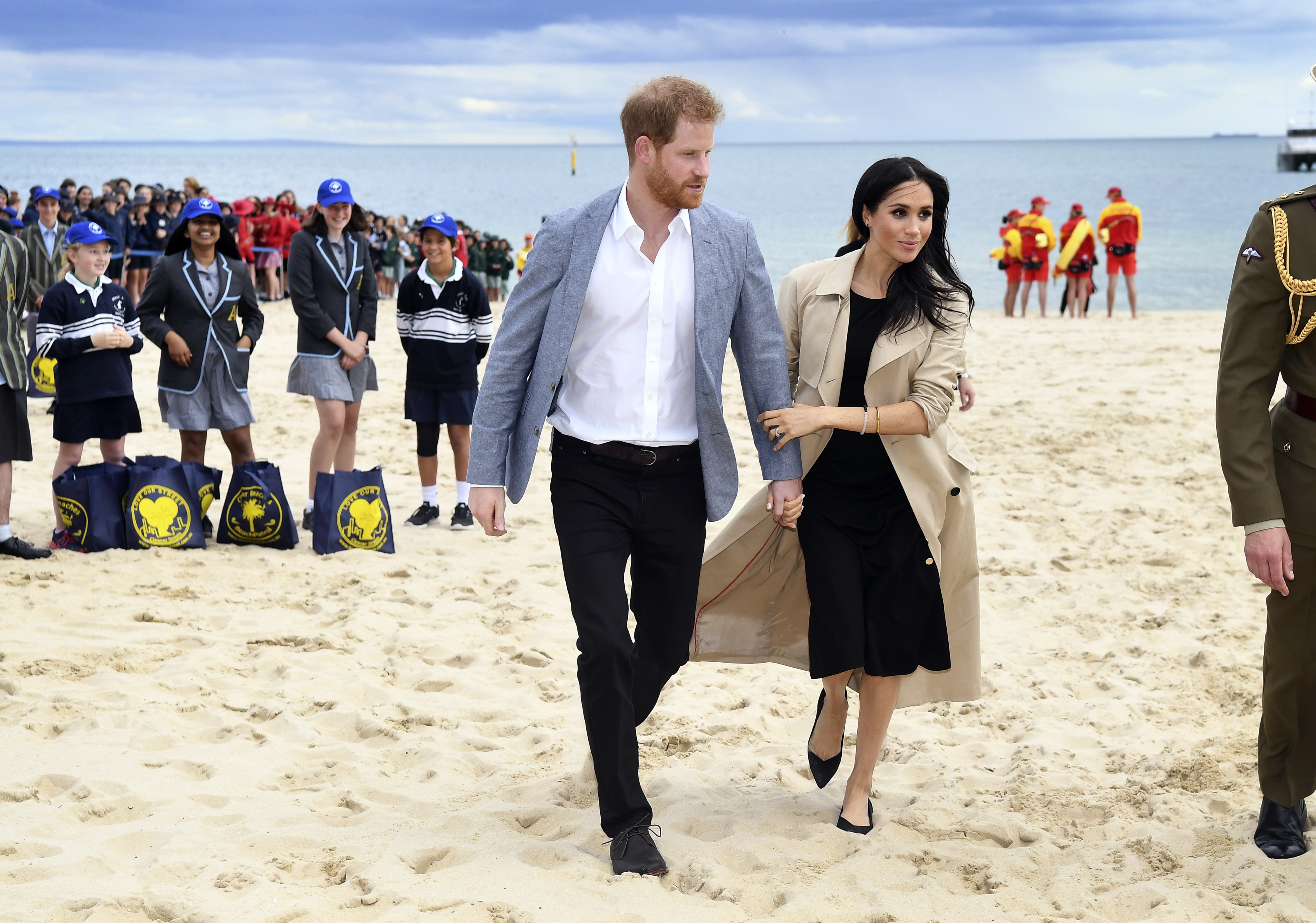 Later on the same day Meghan and Harry made their way to the beach and the Duchess changed into a gorgeous, sleek, black look with a Club Monaco dress and flats along with the same trench coat from a number of her other outings.
Day 4
Outfit: Martin Grant Pleated Stripe Long Dress, $1615
Castañer canvas wedge espadrilles, $120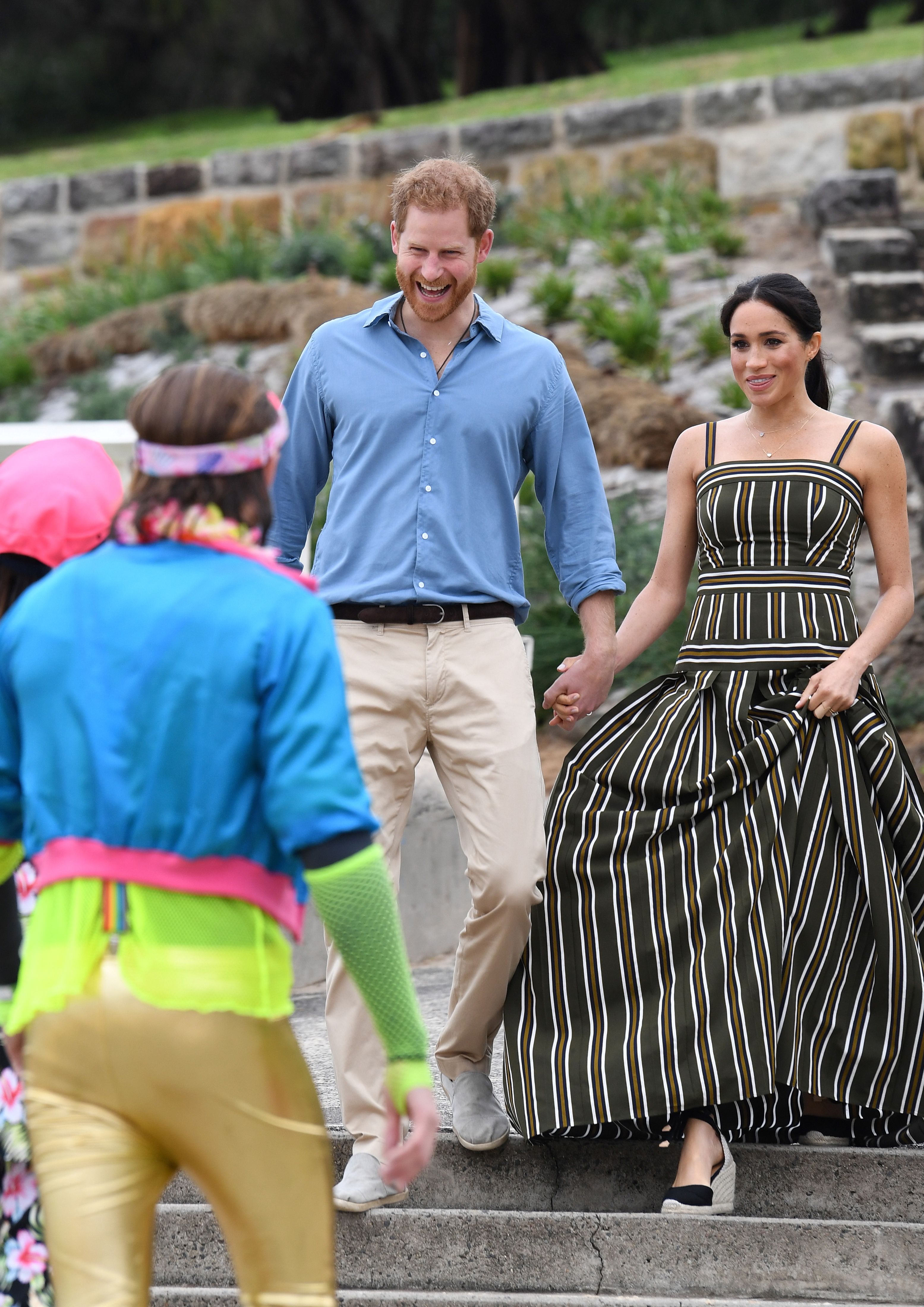 It was back to the beach for the Duke and Duchess on day 4, but this time it was back here in Sydney at Bondi. Meghan stunned in this striped maxi-dress from Martin Grant paired with wedges – perfect for an overcast day at the beach!
Day 5
Outfit: Illesteva Palm Beach Sunglasses in amber, $240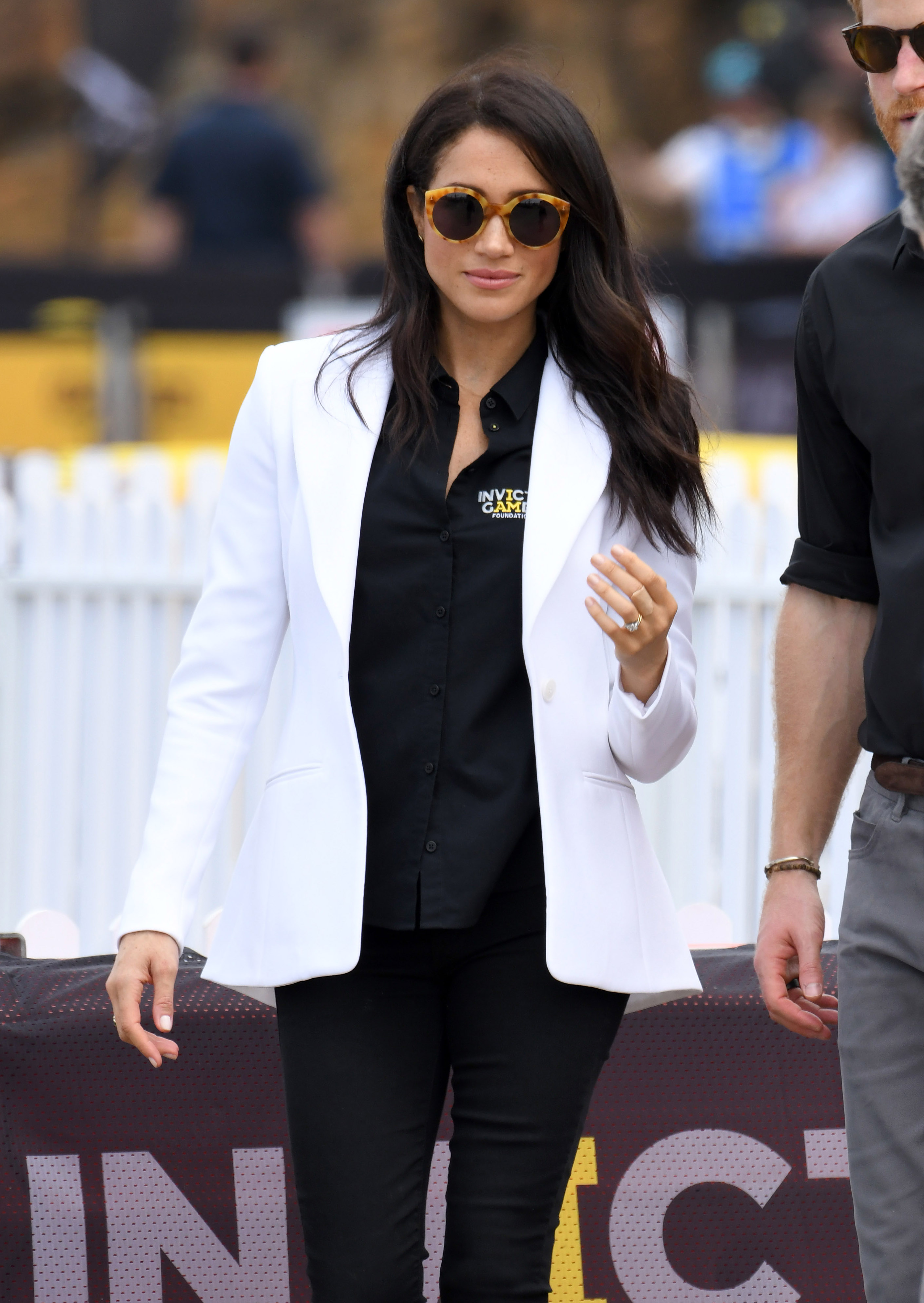 Celebrating the official opening of the Invictus games today, both Meghan and Harry wore matching, black Invictus Games polo shirts while on Cockatoo Island but Meghan accessorised her outfit with chunky, amber coloured sunnies!
Day 6
Outfit: Veja V-10 leather sneakers, $140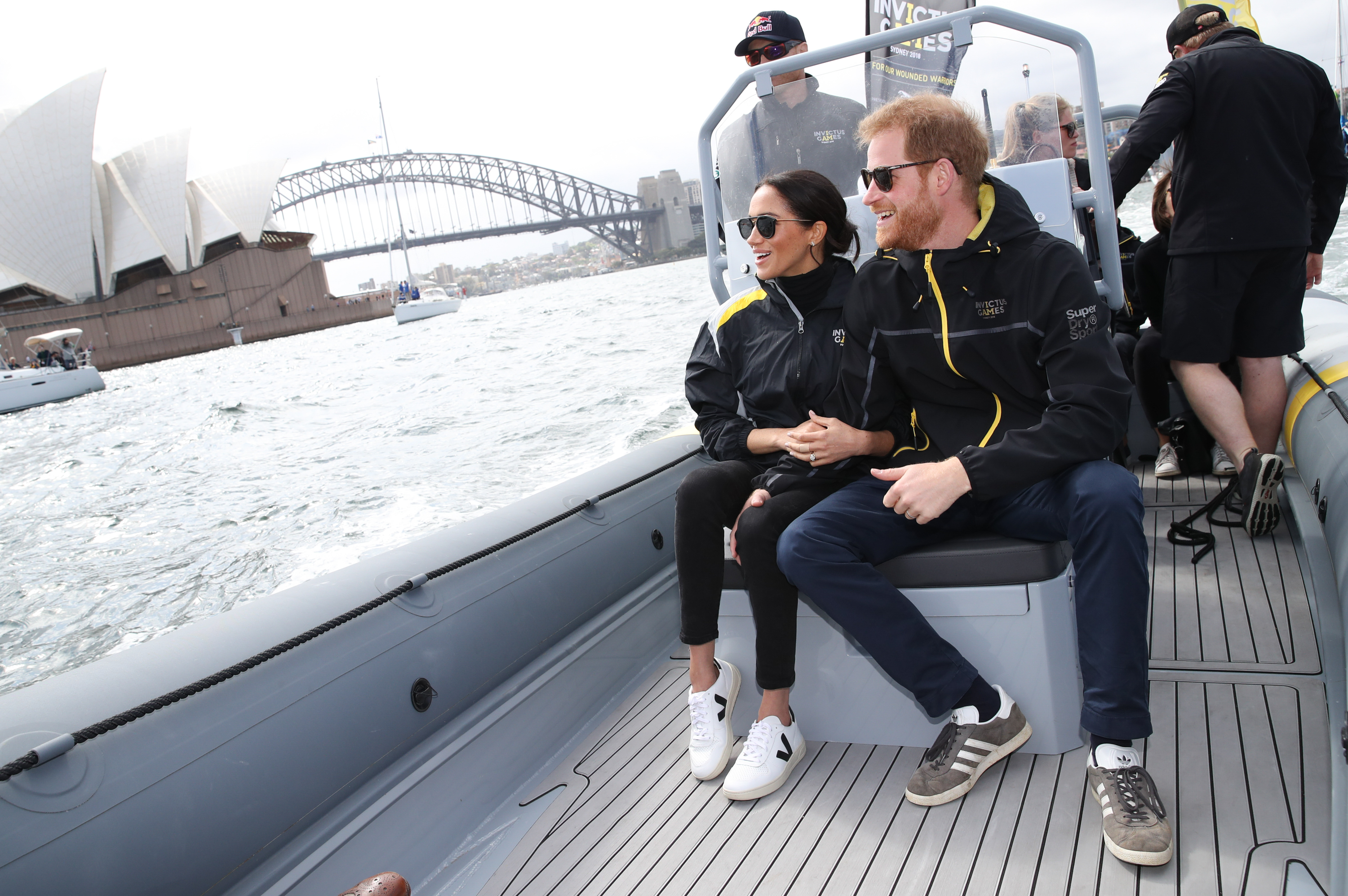 Many were surprised by Meghan's casual attire as her and Harry stepped out to watch some of the events at the Invictus Games, but in a seriously good way! Meghan took on a sporty-chic look with her pair of white Veja leather sneakers being the hero of the outfit.
Day 7
Outfit: Reformation Pineapple Dress, $218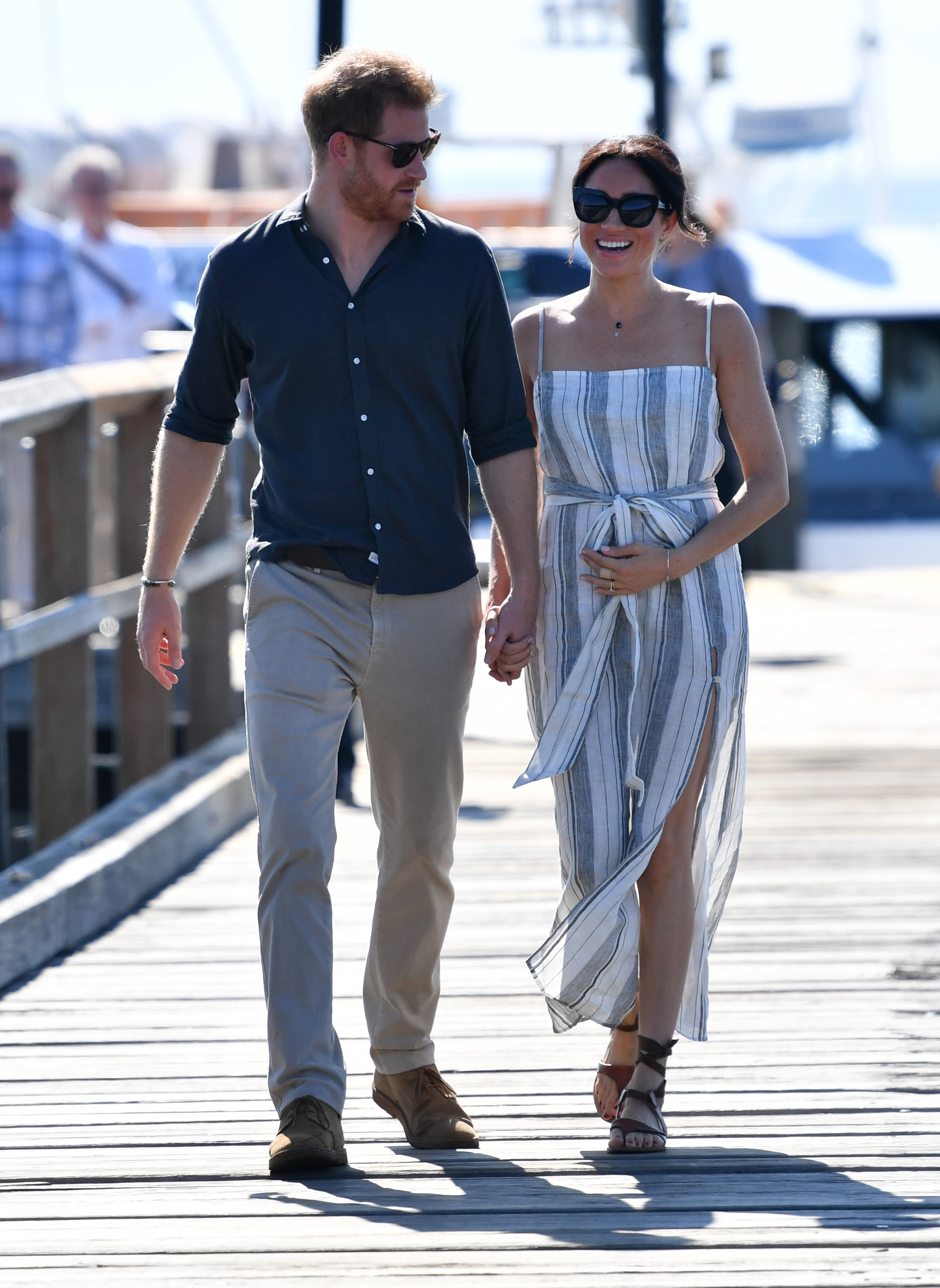 The Duchess of Sussex showed a bit of skin in this laid-back look for Day 7 of the royal tour on Frazer Island. She could be scene cradling her ever so slight baby bump in the maxi dress and looking happier than ever as she walked hand in hand with Prince Harry.
Love this? You'll love this bit from Will & Woody – catch the boys weekdays from 4PM on KIIS 1065