Spring has only just barely sprung, which of course means it's nearly summer.
And if your pool is full of bugs and whatnot from winter, the good news is, you're already on-trend.
Forget the giant inflatable swan or flamingo. The giant inflatable cockroach is where it's at.
It's name, Kangaroo's Gigantic Cockroach Raft, makes no sense and sells for roughly $A40 on Amazon.
The customer comments really speak for themselves.
"Once Mr. Roach was all blown up the kids were just thrilled to bits with him. They decided to call him Chappie and asked if they could use it as a bed when they spend the night at my house."
"This has got to be the most outrageous raft ever!! We took it to the lake and we couldn't get people to stop asking questions about it. My kids love it!!"
"My mother in law is afraid of roaches lol we got his to scare her and it worked so well!!! My son loved riding on it and attacking her. Great family fun!!"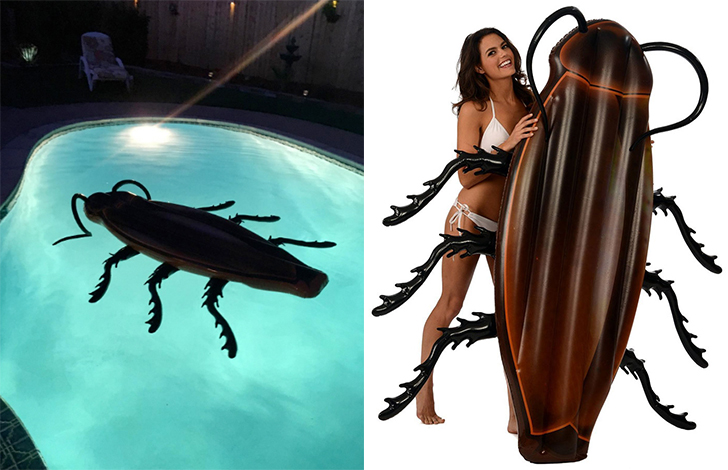 Many commenters agreed on one thing – it really smells bad.
"I'm slightly disappointed by how STRONGLY scented this plastic is. I didn't have a pump so I had to blow this up with my mouth, which might have been fine but breathing that odour in through my nose with each breath was awful.
"One thing I did notice about this raft is that it has a horrible plastic smell. I'm sure it will diminish with time but I put it in the garage and my entire garage smells."
"This thing is huuuge! If you can get past the smell when you open the package, then it's a fairly durable float."
"Gets super hot in the sun. It looks cool for a minute until you realize that you're skin is blistering from the black. Oh and it STINKS and the stink doesn't go away."
Form an orderly queue, everyone.
Want more? Get more from Kyle & Jackie O!