If you're one of those people who loves Nutella SO much that would be totally cool with having it hooked right into your veins (let's face it, there's thousands of us), then you might want to stop reading this.
Ignorance is bliss, but we have a rather rude awakening for you.
A brutally honest photo uploaded to Reddit by user Mr Flow has gone viral, showing ALL the actual ingredients in Nutella, and it's left us feeling a little sick (or, erm, guilty).
The breakdown of the ingredients includes a whopping amount of palm oil, a seriously small amount of cocoa and hazelnuts and a crazy amount of sugar.
Knowing that there is a fair bit of sugar in Nutella isn't rocket science, folks, but we never realised there was quite THIS much in one jar…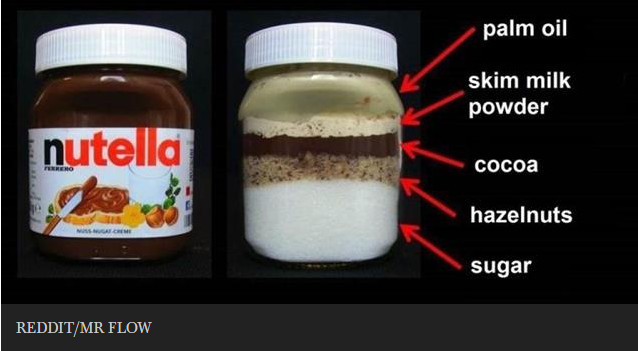 (Image: Cosmopolitan / Reddit Mr Flow)
According to Ferrero, the ingredients and nutritional information detailed on Nutella's labels fully comply with the requirements of Food Standards Australia and New Zealand.
"One of Ferrero's core nutritional beliefs is that small portion sizes help people to enjoy their favourite foods in moderation," Ferrero said in a statement to Mail Online.
AKA: next time you whip out a spoon out to dive right into a deep Nutella binge…you might want to take it easy!
Or not.
We still absolutely love you, Nutella.
Source: Cosmopolitan
TRENDING VIDEO: ICYMI, THIS Is Where You Can Get Nutella On TAP
Love this? You'll love this bit from Will & Woody – catch the boys weekdays from 4PM on KIIS 1065