YUM!
Perennial choccy fave KitKat have announced the release of FIVE brand new flavors, direct from Japan!
But if you want to sample them for yourself, there is only one place you can buy them from (unless you fly yourself over to Japan of course!)
The latest 'Created in Japan' range, include Butter, Sake, Uji Matcha, Strawberry & Maple and Hokkaido Melon and Mascarpone flavors, and you can buy them from KitKat's Chocolatory shop in Melbourne.
And the best news is if you can't get to Melbourne you can purchase them online!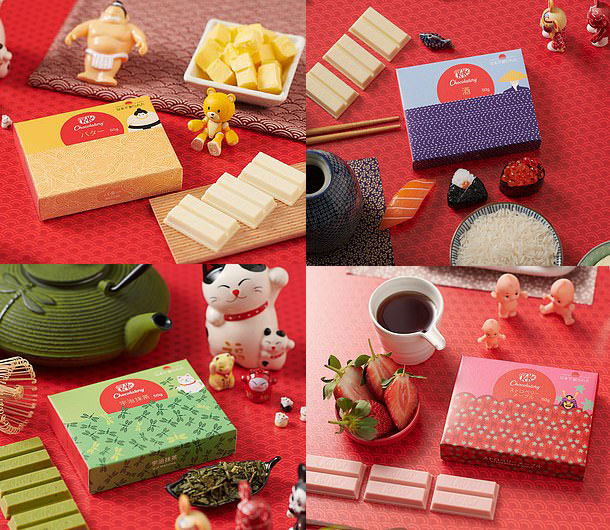 The new 'Created in Japan' KitKats include Butter (top left), Sake (top right), Uji Matcha (bottom left), and Strawberry & Maple (bottom right)
Connie Yuen, Head Chocolatier at KitKat Chocolatory, told Daily Mail Australia:
'We know that Australia has a love affair with Asian cuisine, so we explored the extensive Japanese range and chose to import the five most iconic flavours,'
'It was a hard decision to make – there are over 300 unique creations available in Japan – but we landed upon delicious combinations that we believe will excite Aussie chocolate lovers.'
The company expects the Butter flavour to be the 'real standout'
'It's only available to purchase in Hokkaido, a region of Japan renowned for its dairy products,'
And the Sake flavour bar contains a small amount of the Japanese rice wine.
'It's definitely one for the adults!' Ms Yuen said.
'Keep your eyes peeled for what's next because we are always innovating and will have lots more exciting flavour combinations launching soon,' she said.
MORE: PEOPLE SELLING KITKAT GOLD ON EBAY AT FOUR TIMES THE PRICE
MORE: KIT KAT SUSHI EXISTS BECAUSE OF COURSE IT DOES
Love this? You'll love this bit from Will & Woody – catch the boys weekdays from 4PM on KIIS 1065