Who doesn't love a good slice of pizza?
There's simply nothing better than digging into an oily, cheesy slice, but sometimes it's hard to know where to go to get bang for your buck and leave with a satisfied stomach.
Here's a list of some of the best places to go to get your fix – hope you're hungry!
DA MARIO
36 Morley Ave, Rosebery
Owned and run by pizza aficionado David Cowdrill, who also runs Pizza Mario in Surry Hills, Da Mario's specialty is the Salamino – cheese and sausage pizza. Big puddles of ricotta marry crisp slices of salami for the perfect pizza experience.
POMPEI'S
126-130 Roscoe St, Bondi Beach
Featured on many "Best Pizza" lists for Sydney, Pompei's offers eco-friendly homemade pizza, pasta and gelato. They also do pizza bases made from brown rice, millet and potato flour for those with gluten intolerances.
CANDELORI'S
685 The Horsley Drive, Smithfield
For those living out west, look no further than Candelori's, a family run establishment with an open kitchen for all diners to be able to see the magic happening. Try the Quattro Otto pizza – buffalo mozzarella, speck, scrams smoked cheese and wild rocket. Delicious!
FRANKIE'S PIZZA
50 Hunter St, Sydney
This hip pizza joint in the heart of the CBD also doubles as a live music venue. Open until 3am seven days a week, it's the perfect spot to soak up your bevs with a bit of greasy goodness by the slice.
GIGI'S PIZZERIA
379 King St, Newtown
In the trendy heart of Newtown, Gigi's does things the traditional way with delicious results. It's a great place to grab a bite before heading out to all the vibrant nightlife King St has to offer. Make sure you try the Gamberi e Rucolo – prawns, cherry tomatoes, chilli and parsley, all topped off with fresh rocket.
DA ORAZIO PIZZA & PORCHETTA
3/75-79 Hall St, Bondi Beach
The staff at this beloved joint suggest that you share their pizzas, but they're so tasty you'll probably want one all to yourself! The massive 32cm pizzas are handmade and cooked the traditional way in a wood fired oven, and there's a huge selection of flavours to make your mouth water.
ROSSO POMODORO
91/24 Buchanan St, Balmain
If you're after a place that does things by the numbers, look no further than Rosso Pomodoro – one of the most authentic Italian experiences on offer in Sydney. The queues might be intimidating, but once you're in, you'll have no complaints – especially if you throw down on the Della Casa with Italian sausage, hot salami, baby spinach and parmesan. Yum.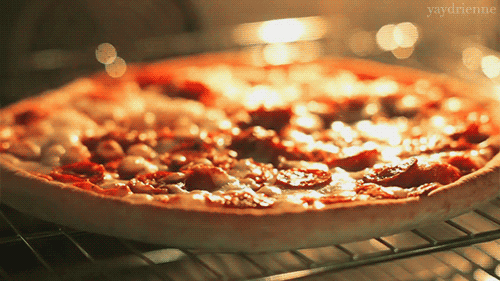 VACANZA
414 Bourke St, Surry Hills / 261 Bronte Rd, Waverley
Requests for modifications to the menu will be "politely declined" at this joint, where it's their way or the highway. Luckily, it's all scrumptious fare here, with the favourite being the Il Pizzaiolo del Presidente Diavola, featuring hot salami, fresh chilli and olives.
VIA NAPOLI
64-68 Gladesville Rd, Hunters Hill / 141 Longueville Rd, Lane Cove
Um, so, these guys do 1 and 2 metre pizzas. That's probably all you need to know, but you've probably already grabbed your keys and are slamming down on the pedals, ready to get there and chow down.
FRANCO FRANCO
628 Crown St, Surry Hills
Headed up by Italian-born Francesco Armillis, this Surry Hills joint makes traditional pizzas to die for, focusing on minimal ingredients and maximum flavour. Try the prosciutto pizza and you'll be kissing your fingertips in no time.
Love this? You'll love this bit from Will & Woody – catch the boys weekdays from 4PM on KIIS 1065