Whether it's a warm and comforting hearty pie or a light and healthy meal, here are are five of our favourite easy, healthy and delicious beef recipes.
Quick Mix Shepherd's Pie
Serves 4, Preparation Time 15 minutes, Cook Time 25 minutes.
Ingredients
500 g beef mince
50 g pkt Shepherd's pie recipe base
1½ cups water
2 cups mixed frozen vegetables
mashed potato (4 lge potatoes)
Place mince in a bowl and mix in a little oil. Heat a large frypan until moderately hot, crumble in the mince. Brown the mince, breaking up any lumps with a fork.
Stir in the Shepherd's pie recipe base, water and mixed vegetables Reduce heat, cover and simmer the beef mixture for 10 minutes. Preheat the oven to 180ºC.
Spoon the beef mixture into a shallow baking dish. Spoon the mash over the beef, spread it out, and rough the mash up a little with a fork. Cook uncovered for about 20-25 minutes or until thoroughly hot.
Tips!
You'll need to cook and mash about 1kg potatoes to top the pie with. You can use leftover mash and add other mashed vegies to it. Favourites include mashed potato and pumpkin or a combination of mashed potato and sweet potato. Adding a little cream or butter to the mash makes it extra yummy. As does grated cheese like tasty cheese or pizza cheese.
Freeze mince you don't intend to use. Uncooked mince can be frozen for 2-3 months. Rather than freezing loose mince in roundish shape as bought from the butcher lay it out flat to freeze. This is important as it allows the mince to freeze evenly and it allows the mince to thaw evenly. Cooked mince dishes can also be frozen for later use.
Thaw frozen mince (and any meat) in the fridge, on the lowest shelf below and or away from any ready to eat food. And only thaw in the microwave if using the mince immediately thereafter.
Beef Rump Stir Fry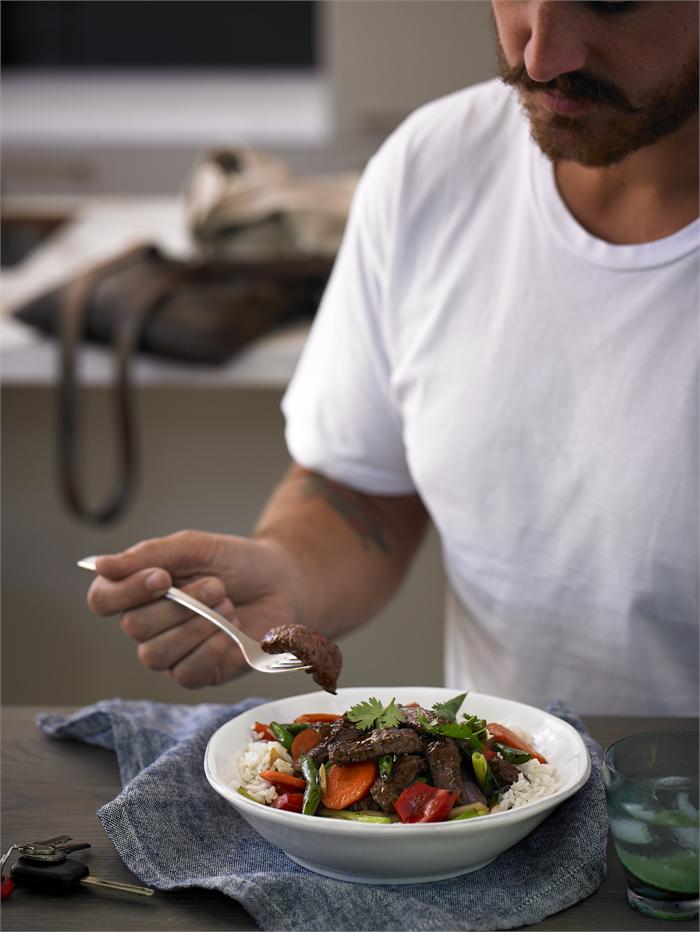 Serves 4, Preparation Time 10 minutes, Cook Time 10 minutes.
Ingredients
600 g beef rump, sliced thinly into strips
2 bunches bok choy
200 g green beans
2 carrots
½ bunch spring onions
1 Spanish onion
1 red capsicum
½ cup water chesnuts, sliced
2 tbsp canola oil
3 tbsp oyster sauce
1 tbsp brown sugar
50 ml soy sauce
1 tsp corn flour
¼ bunch coriander, chopped
Cut the vegetables into even pieces so they cook through at the same time. Chop the bok choy roughly into 3 cm squares.
For the dressing, combine oyster sauce, soy sauce, sugar and corn flour. Mix to dissolve and set aside.
Place wok over high heat, add a little oil and fry the beef in 3 batches until browned. Place the cooked beef in a bowl and set aside after each batch is cooked.
Add remaining oil to the wok and cook onion for 1 minute; add carrots, capsicum and beans and cook for 2 minutes. Add bok choy and stir until slightly wilted, then return the beef to the pan and add dressing. Serve with coriander.
Lemongrass Beef Skewers With Vietnamese Noodle Salad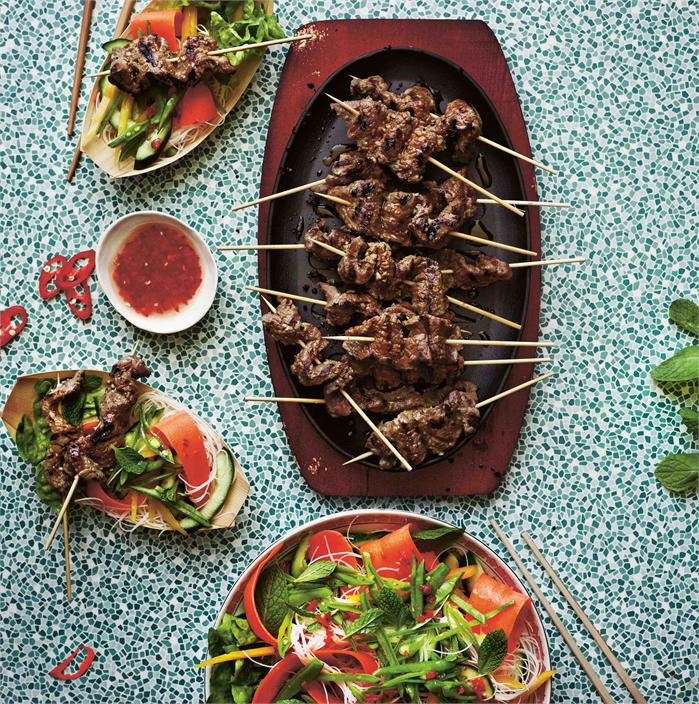 Serves 4, Preparation Time 25 minutes, Cook Time 10 minutes.
Ingredients
600 g rump steak
Marinade
1 stick of lemongrass, trimmed and outer leaves removed (or 11/2 tbsp of lemongrass paste)
2 cloves garlic, peeled
1 tsp fish sauce
1 tsp cracked black pepper
2 tsp caster sugar
Salad
4 large lettuce leaves, torn (Oakleaf, Butter or Baby Cos varieties)
350 g softened vermicelli rice noodles
1 cup loosely packed mint leaves
2 medium carrots, shaved into ribbons
2 lebanese cucumbers, deseeded and sliced
1 medium yellow capsicum, cut into strips
100 g snow peas, sliced
Dressing
2 tbsp lime juice
1 tbsp fish sauce
3 tsp caster sugar
1 red chilli finely chopped (optional)
Pound the beef to a 1cm thickness. Cut into long, wide slices and place in a bowl with the marinade. Stir to combine, cover and set aside for 30 minutes.
Preheat a chargrill or barbecue to moderately hot. Thread the beef onto skewers.
Grill the beef skewers for 11/2 minutes on each side or until cooked to your liking.
Mix the salad ingredients with the dressing and place on a large plattter. Top with the beef skewers and serve. Alternatively, try serving beef skewers with the salad in individual bowls or noodle boxes.
To make the marinade:
Finely chop the lemongrass and garlic and pound in a mortar and pestle until it becomes a coarse paste. Add the fish sauce, pepper and sugar and stir to combine. If using lemongrass paste, add it to the crushed garlic, fish sauce, pepper and sugar and combine.
To make the dressing:
Stir the ingredients together and set aside.
Hot and Sour Beef Noodle Soup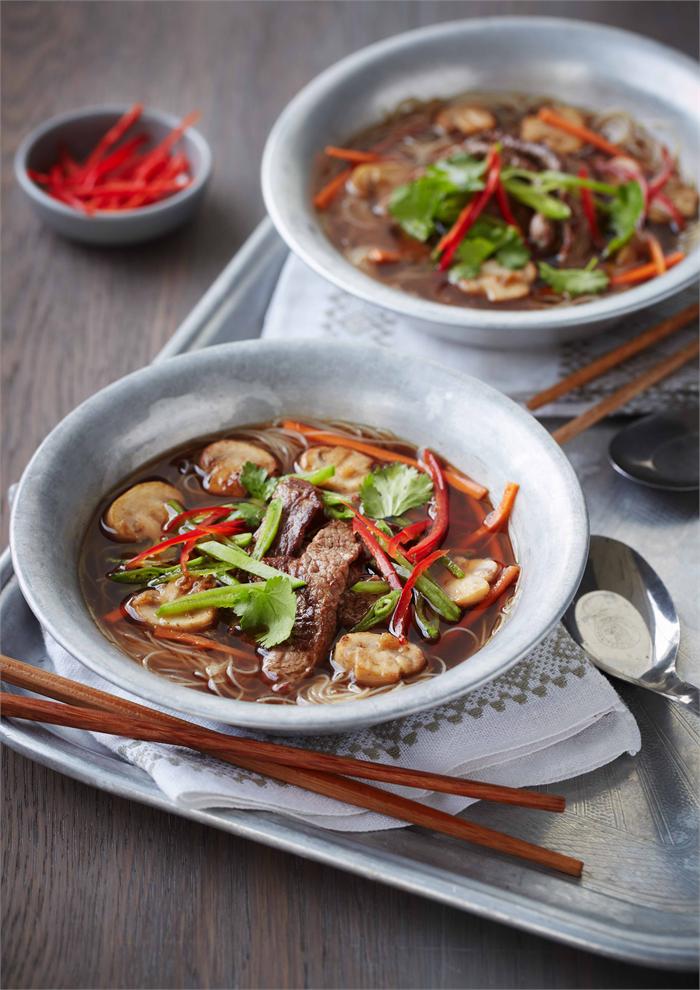 Serves 4, Preparation Time 10 minutes, Cook Time 30 minutes.
Ingredients
600 g rump steak, fat trimmed
1 tbsp sunflower oil
300 button mushrooms, halved
2 cloves garlic, crushed
3 cm ginger, finely grated
500 ml salt reduced beef stock
2 tbsp fish sauce
3 tbsp palm sugar or brown sugar
4 long red chillies, sliced lengthways (optional)
300 g carrots, cut into long thin strips
300 g snow peas, thinly sliced
2 tbsp lime juice
200 g vermicelli noodles, soaked in boiling water until soft
Coriander leaves to serve
Finely slice beef across the grain and toss in oil. Preheat a large saucepan or wok. Cook beef in batches until just golden. Remove from the pan. Add mushrooms and cook until golden and softened. Add garlic and ginger and cook until fragrant.
Add stock, 500ml water, fish sauce, palm sugar or brown sugar, chillies and carrot. Cook for 3- 5 minutes or until carrot is half cooked
Divide the pre-cooked noodles into serving bowls and then add the beef and mushrooms mixture. Top with the stock. This will continue to cook the beef.
Finish off with snow peas, lime juice and coriander.
Beef Rump Po'Boy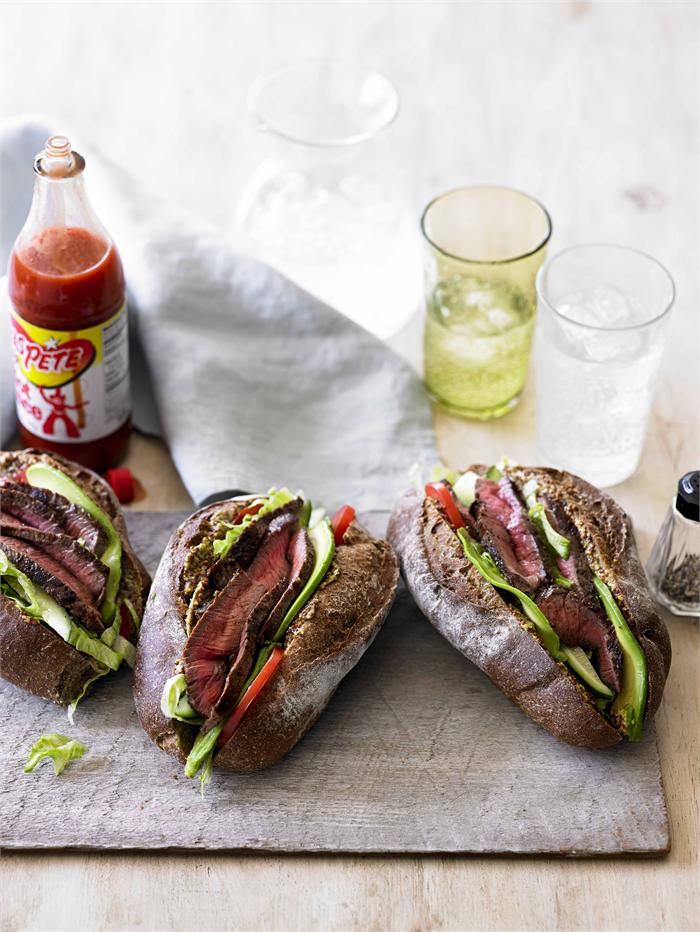 Serves 4, Preparation Time 10 minutes, Cook Time 30 minutes.
Ingredients
600 beef rump steak, trimmed
1 tbsp olive oil
2 Lebanese cucumbers
1 tbsp white vinegar
4 soft, long (15cm) brown bread rolls
wholegrain mustard
1 avocado, sliced
2 roma tomatoes, sliced
2 cups shredded iceberg lettuce
chilli sauce, to serve
Brush beef with oil and season with salt and pepper. Preheat a frying pan over high heat and cook the steaks for 2 minutes each side. Rest for 5-10 minutes and slice thinly.
To pickle cucumbers, cut them into long batons roughly the length of the bread rolls. Sprinkle with a little salt and the vinegar and leave to pickle for 10-15 minutes.
Open the bread rolls and spread with mustard and avocado. Fill the rolls with salad and top with sliced beef and chilli sauce.
(Recipes sourced from www.beefandlamb.com.au )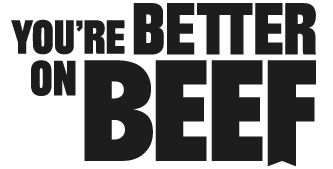 Want more? Get more from Kyle & Jackie O!