These little individual cheesecakes are great to bring to parties or to have ready made in the fridge for when you're hosting!
Often cheesecakes can require quite a large production. Luckily, these ones are super simple thanks so In The Pink & Green.
They also store very well and unlike cupcakes don't go stale after a day or two, so it means you can make them in advance for an event!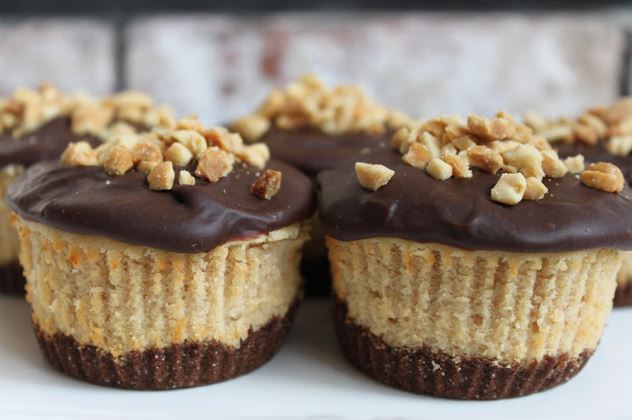 Ingredients:
1 cup finely crushed chocolate graham crackers (or cookies)
3 tablespoons unsalted butter or margarine, melted
2 packages of cream cheese, softened
½ cup peanut butter
⅔ cup granulated sugar + 1 tablespoon
1 tablespoon flour
1 teaspoon vanilla
2 eggs
1 bag of semi-sweet chocolate chips
½ cup heavy cream
¼ cup finely crushed peanuts (optional)
Method:
Preheat oven to 180 degrees C. Line a cupcake pan with 12 paper liners.
In a small mixing bowl, mix together the cookie crumbs and butter. Press crumbs onto the bottom of the cupcake liners. You can also add 1 tablespoon of sugar to the mix. Bake for 10 minutes.
In a large mixing bowl, mix together cream cheese, peanut butter, sugar, flour, and vanilla with an electric mixer on medium speed until well combined. Beat in eggs until well combined.
Spoon cheesecake filling onto tops of crusts. Bake at 180 degrees for 18-22 minutes or until set on top but still soft. Remove from oven and cool completely.
Place chocolate chips and cream in small microwave safe bowl in microwave on high in 30 second intervals, stirring after each interval, until smooth. Spoon the chocolate on top of each cheesecake. Sprinkle nuts on top if desired.
Refrigerate cheesecakes for at least 3 hours or overnight. Store cheesecakes in refrigerator.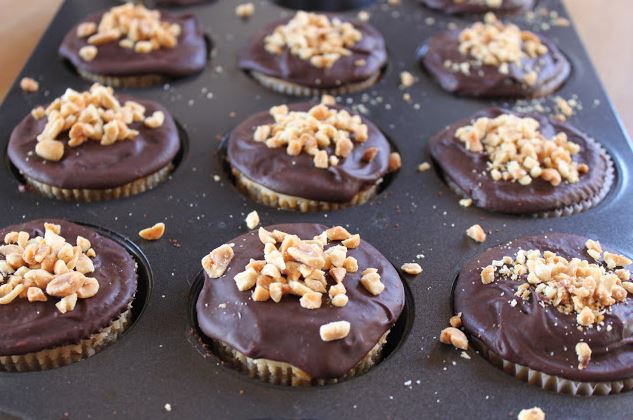 Yum!