Lite n' Easy has undergone a nationwide recall after metal was discovered in two of its Traditional Favourites products.
The Chargrilled Steak & Pepper Sauce and the Chargrilled Steak & Mushroom Sauce pre-packaged meals were both named as part of the recall.
According to Food Standards Australia New Zealand, the announcement affects those meals with best before dates up to the 18 October 2017.
Consumers are being warned not to eat the meals with concerns foreign metal could be consumed and cause injury.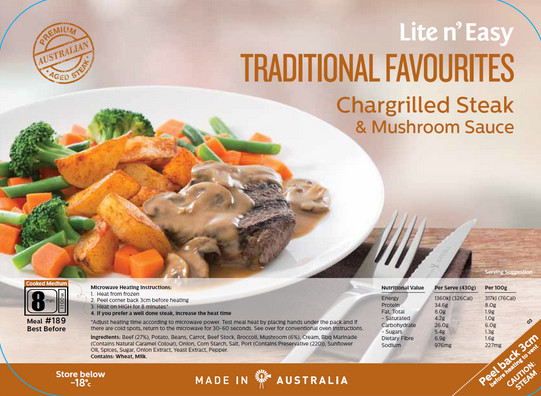 Sold directly to customers nationally, people are being advised to contact the company for a full refund.
This can be done by sending an email with a photo of the lid showing the best before date to the relevant Lite n' Easy site.
Customers affected should include their full name, phone number and delivery address so a $15 credit can be applied to their account.
Returns Emails:
Victoria: vic@liteneasy.com.au
South Australia: sa@liteneasy.com.au
Queensland: qld@liteneasy.com.au
Western Australia: wa@liteneasy.com.au
New South Wales: nsw@liteneasy.com.au