WINNER WINNER CHICKEN DINNER (every single night of the week…)
How much do you love KFC? If the answer is a whole freaking lot, then you could be in the running to win an entire year's supply of the colonel's finger lickin' good fried chicken!
To celebrate what could arguably be one of the best holidays of the year coming up on Friday 6th July, National Fried Chicken Day, KFC have decided to reward their dedicated customers with the launch of their inaugural 'Chicken Cheque'.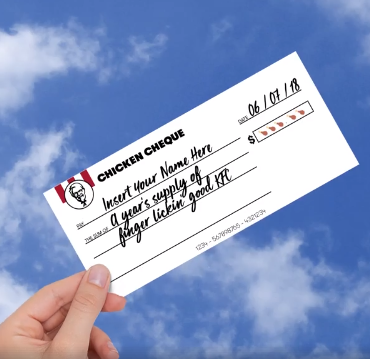 And what does a Chicken Cheque buy you do you ask? Well basically it acts as an all-access pass to an entire year of mouth-watering chicken coated in the eleven secret herbs and spices, without you having to spend a single cent!
All you have to do to win the highly coveted chicken reward is head to the KFC Australia Facebook page and comment on their National Fried Chicken Day post with a reason why you should win.
But you might have to come up with something a little more creative than just because you're obsessed with KFC chicken because TBH what Aussie isn't? So get cracking (get it, cracking…like an egg…chicken's lay eggs…okay we swear we're funny) on a creative answer!
The winner of the comp will be announced on the holiday itself, this Friday, via their Facebook page. Good luck chicken lovers and may the biggest KFC fan win!
Want more? Get more from Kyle & Jackie O!