It's like Krispy Kreme and KFC have combined to make one perfect baby!
Introducing the latest menu item from the Colonel, a piece of KFC's delicious fried chicken placed in a bed of two fluffy, glazed doughnuts.
In theory, it should be kind of disgusting. But are we the only ones who thinks it looks delicious..? Kind of like how bacon seems to go so well maple syrup or maltesers pair perfectly with popcorn.
Anyway, if you like the look of the chicken/doughnut combo we do have some sad news for you – it's currently only being trialled over in the US.
More than 40 locations in Norfolk, Richmond, Virginia and Pittsburgh will test out the strange menu item such according to the fast food giant.
Along with the burger is another chicken and doughnuts option for people to try, such as the chicken on the bone or chicken tenders meal served with one or two doughnuts instead of hot chips.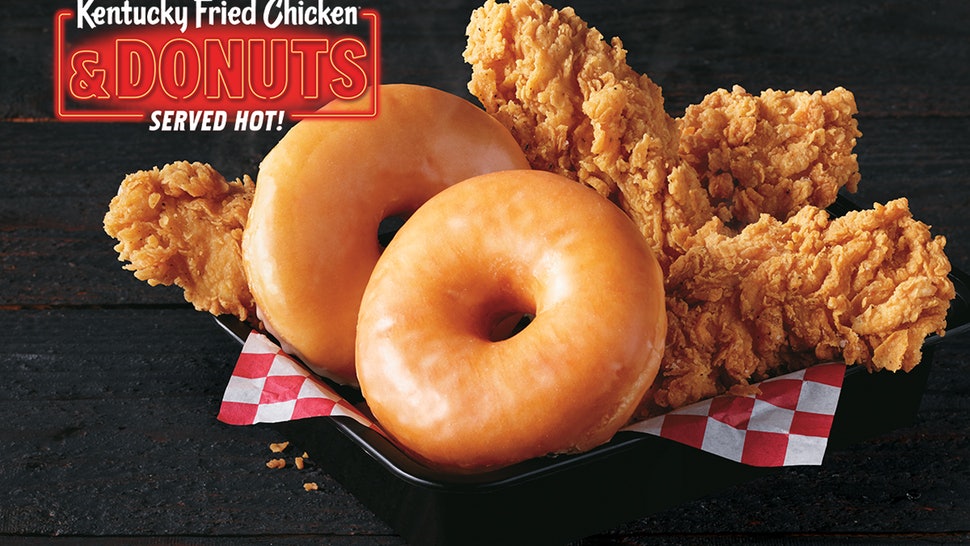 KFC customers at the select locations can also add a piping hot glazed doughnut to any meal for just $US1!
According to Business Insider, KFC is trialling the chicken and doughnut meals before possibly rolling it out on a national scale. And from there who knows, it might just make it's way down under!
Whether it tastes good or not, we have to say that this latest offering has sparked quite the conversation on Twitter with very mixed reviews.
Road trip, anyone? https://t.co/NwkYai10Ex

— Travis (@travislylesnews) September 17, 2019
KFC will test Chicken & Donuts for a limited time only in Norfolk/Richmond, VA and Pittsburgh pic.twitter.com/a2RIUvvbK1

— Kate Taylor (@Kate_H_Taylor) September 17, 2019
I'm not one to bang the drum with "clean eating" but this sounds absolutely horrendous https://t.co/ILwrwewR39

— RANsquawk (@RANsquawk) September 17, 2019
This looks disgusting when can I try it https://t.co/PurZV3g5f5

— Sarah Cooper (@sarahcpr) September 17, 2019
This chicken sandwich obsession has gone too far. https://t.co/YWSv2lcbjZ

— Connor O'Brien (@connorobrienNH) September 17, 2019
Would you try it?
Want more? Get more from Kyle & Jackie O!