This mouth watering recipe comes from the healthy dessert blog, Chocolate Covered Katie and we are thankful!
What is better than brownies and pancakes and the added bonus that it's healthy!
This recipe makes 6-8 pancakes.
INGREDIENTS:
1/4 cup spelt flour (or all-purpose or Bob's gluten-free)
1/4 tsp baking powder
1 tbsp Hershey's Special Dark cocoa or dutch cocoa (You can sub regular cocoa, but I haven't tried it in this recipe and therefore can't personally vouch for the taste)
1 and 1/2 packets nunaturals stevia or 1 tbsp plus 1 tsp sugar (you can use less if you're planning to top with syrup and don't want the actual pancakes to taste sweet.)
1/16 tsp salt
1 and 1/2 tbsp applesauce or oil (Personally, I use 1 tbsp oil and 1/2 tbsp applesauce. I don't like the taste of fat-free pancakes.)
1 tsp pure vanilla extract
5 and 1/2 tbsp milk of choice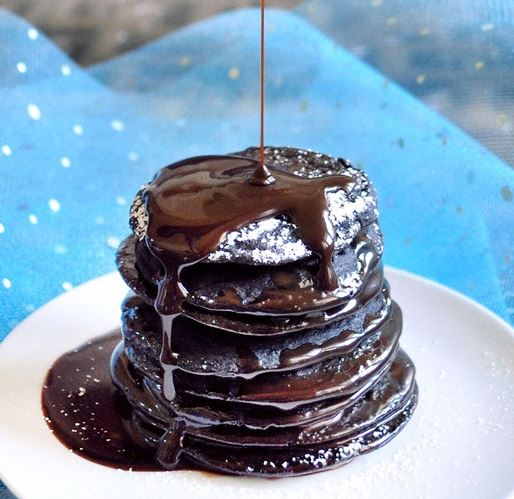 METHOD:
Mix the dry ingredients together very well, then add the wet ingredients and combine!
Cook in a pan like you usually would cook pancakes and voila!
Enjoy, guilt free!
Want more? Get more from Kyle & Jackie O!