ANOTHER ONE! Something generally associated with DJ Khaled and now one of our favourite chicken shops with word on the street that they're opening another store in Sydney!
Chicken institution Chargrill Charlie's is ready to enter the Northern Beaches with a new store opening up in Dee Why this weekend!
And of course, there will be plenty of steaming hot chicken, mouth-watering fries and freebies on offer on their opening day!
Being the third CC's store to open this year and the 14th store across Australia now, the new Dee Why location sets itself apart from the rest with it's ideal spot right near the sandy shores of Dee Why beach – perfect for a post swim feed!
It's been decorated in Chargrill Charlie's traditional modern industrial deco but with a beachy twist to represent it's oceanside neighbourhood.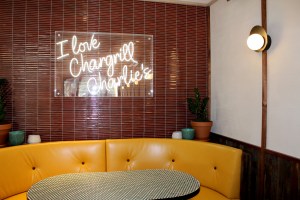 Of course it will have all of your fav Chargrill fixings available for purchase, but on the opening day you'll be able to score yourself a freebie!
Between 12pm-1pm you can grab a free quarter BBQ chicken and chips combo and from 5-6pm you can get your hands on a half BBQ chicken and salad!
There will also be DJs spinning the decks throughout the day plenty of merch for you to get your hands on.
All the fun is going down this Saturday December 14th at 3/10 Howard Avenue, Dee Why.
Catcha there for a swim and a Chargrill Charlie's feast!