Cadbury chocolate company are set to ditch their Fairtrade logo from the front of Dairy Milk, and replace it with a new scheme.
The green and blue Fairtrade logo has given cadbury Dairy Milk an iconic ethical stamp of approval for over seven years.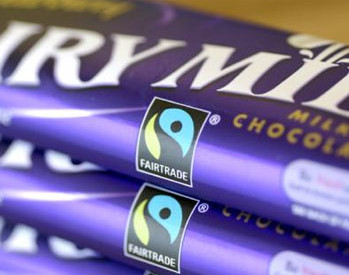 The Fairtrade logo will be replaced by a 'Cocoa Life' logo from May next year.
Cocoa Life use responsibly sourced cocoa from Third World farmers and pays them a fair price to help lift them out of poverty.
According to The Mirror, Cocoa Life will be rolled out to other products including Flake, Twirl and Wispa within 18 months as Britain becomes the first country to adopt it on Cadbury goodies.
Cadbury have stressed the Fairtrade blueprint would remain the backbone of Cocoa Life with sustainability at its heart.
Don't worry about your chocolate treats tasting different, according to experts the new logo would not affect the size, shape or taste of Cadbury's chocolate.
Phew!
Source: The Mirror
TRENDING NOW: Couple Use A Toyota Burnout To Reveal The Sex Of Their Baby
Love this? You'll love this bit from Will & Woody – catch the boys weekdays from 4PM on KIIS 1065