It seems the universe wants be to go up a dress size this year and you know what?
whatever
I happily will if it means I can eat this sort of stuff.
Ben & Jerry's are changing the game and releasing a limited edition run of snackable cookie dough chunks WITHOUT ice cream!
This is the kind of chaotic energy I need more of in my life, yeah you heard me… CHUNKS of cookie down.
Ben & Jerry's were the FIRST ice cream company to start putting cookie dough in ice cream in 1984 and now it's become a global phenomenon, so you know you can trust them for all your cookie dough needs.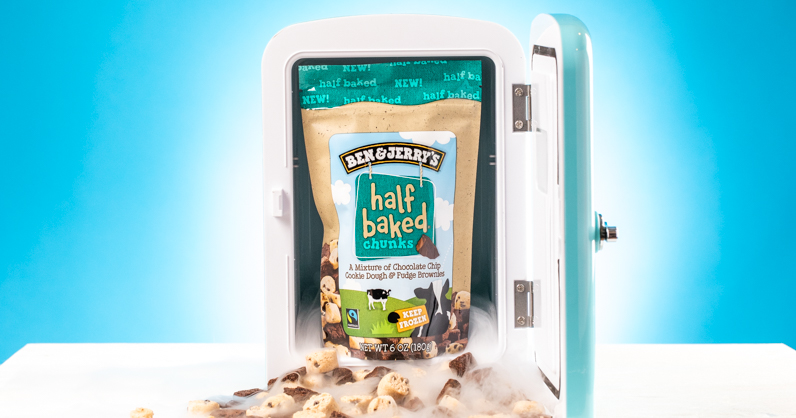 The cookie dough chunks will come in 2 flavours;
Chocolate Chip Cookie Dough and their iconic 'Half Baked' Chunks which will be a mixture of chocolate chip cookie dough and fudge brownies.
God help us all!!
Ben & Jerry's Cookie Dough Chunks are available in 180g and 227g pouches in select Ben & Jerry's Scoop Stores from today and they'll only be available whilst stocks last!!
Check out the list of Aussie stores where you can get your mitts on em'
NSW
Ben & Jerry's Manly
Ben & Jerry's Bondi
Ben & Jerry's Chatswood
QLD
Ben & Jerry's Mooloolaba
Ben & Jerry's Noosa
Ben & Jerry's Surfers Paradise
Ben & Jerry's Pacific Fair
VIC
Ben & Jerry's Flinders Lane
Ben & Jerry's Burwood Brickworks
Ben & Jerry's St Kilda
WA
Ben & Jerry's Hillarys
Ben & Jerry's Joondalup
Ben & Jerry's Fremantle
Ben & Jerry's Northbridge
To find out more and pick up more flavour inspiration, visit www.benjerry.com.au.
Want more? Get more from Kyle & Jackie O!