Vegans have let rip at an Australian cafe on Facebook after it was revealed they refuse to serve soy milk due to health reasons.
Healthy food specialists Rough & Bare, which has cafes in Sydney at Mona Vale and St Leonards, were found out after vegan Tiffany Treloar took a picture of the alert in their cafe.
"We choose not to serve soy milk and people often ask why," the menu reads.
It then goes on to say that soy is 'very highly processed and contains phytates which bind minerals like zinc, calcium, iron and magnesium making them unavailable to you.''
"Isoflavones in soy is plant based oestrogen and this mimics the body's actual oestrogen levels."
The menu goes on to say that they offer better alternates in coconut and almond milk, which they say are "free from any preservatives or additives".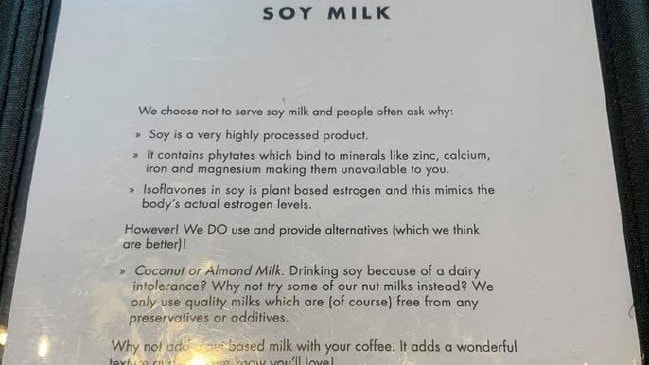 Treloar was far from impressed with the alert and said "Interesting! At a cafe for breakfast and they don't serve Soy… yet they serve Bacon and Bone Broth etc. *extreme eye roll*"
Once the alert was posted on Facebook, other vegans quickly responded saying "Lol bacon is a carcinogen but no… let's blame soy beans," and "Anyone who consumes flesh and drinks pus can't tell me what's bad for me."
Recent studies show that 1.1 million Aussies drink a soy drink at least once a week.
Want more? Get more from Kyle & Jackie O!