In a move that has upset old-school lolly lovers, Allen's have confirmed that they've stopped makings Marella Jubes.
The sugar dusted fruity-flavoured treats were not selling in enough quantities for Nestlé, which owns Allen's, to continue production.
Nestlé spokeswoman Margaret Stuart told Daily Mail Australia:
'We sold our last box in June'
'We deleted Marella Jubes in June because demand had dwindled as lolly fans have switched their loyalty to other products in our range.'
The news was only discovered after a member of Facebook group Old Shops Australia, Ken Taylor, contacted Nestlé trying to track down his favorite treat.
'I loved them – been searching every where for them,' he wrote.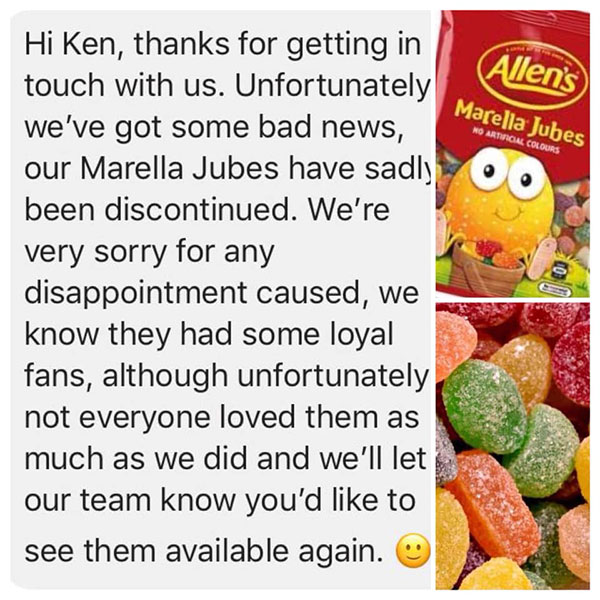 If you are really quick you may still be able to find some packets at your local supermarket, otherwise the last remaining supplies can be found online.
Online retailer Goody Goody Gum Drops has confirmed they still have them available, however they only have leftover stock, so once it's gone, it's gone…
'Although Allen's Lollies have discontinued the 1kg bags of these delicious jubes for reasons best known to them we can supply them in 2.28kg boxes,' they wrote on their website.
In recent years Nestlé has been looking at cutting back on it's wide range of treats, including Violet Crumble which was returned to Australian ownership when Nestle sold the Violet Crumble brand and its associated equipment to Robern Menz earlier this year.
Want more? Get more from Kyle & Jackie O!