As failed multibillion-dollar Masters Home Improvement stores set to shut their doors for good, a rival hardware chain added insult to injury with some cheeky guerilla marketing.
A customer shopping at a Masters' fire sale near Melbourne on the weekend, took a picture that showed Home Timber and Hardware was making the most of Masters' demise.
The photo shows a Home Timber and Hardware Truck parked outside the front of the Masters store in VIC, brandishing a huge advertisement on the side saying "The true masters are still selling hardware".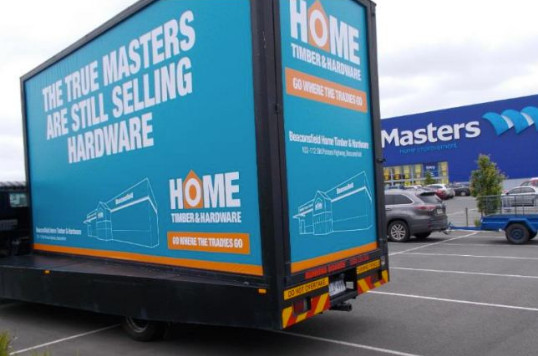 (Image: Reddit)
Marketing expert at Marketing Angels Michelle Gamble told SmartCompany the move is just a crafty bit of guerrilla marketing aimed to get people talking.
While some might see it as insensitive, others just see it as good marketing.
"They're trying to target the media and people online who will think it's clever and share it," Gamble says.
Clearly it worked.
Source: Smart Company
TRENDING NOW: DR PIMP POPPER EXTRACTS A HEFTY EYE CYST
Love this? You'll love this bit from Will & Woody – catch the boys weekdays from 4PM on KIIS 1065