The kitchen is the heart of your home and so some would say that it's the most important room in your house to get right when it comes to design.
It's the room that you'll use every single day, probably a room that your guests will hang out in from time to time and a place where tons of memories will no doubt be created.
While functionality really is key, the style of your kitchen is just as important. More recently we've seen style trends move away from the minimalist look to something reminiscent of a popular New Yorker holiday spot – The Hamptons look.
If you're about to embark on your own kitchen design and are wondering how to achieve the bright, white and relaxed tones of a Hamptons style kitchen, don't worry, we've got your back.
Here are our five top tips for creating the Hamptons Style kitchen of your absolute DREAMS! (You can thank us later)
Choose light coloured, shaker style cabinetry
The coastal living of the Hamptons is known to be bright and airy, and so this is something that you want to mimic in your kitchen to create the same relaxed feel.Avoid dark features especially on things like your cabinetry. Instead you should be sticking to classic colour palettes of white, cream, ivory and some minor pastel hues.
The style of the cabinetry should also be shaker style, which is basically a door that features a recessed centre panel and may occasionally have a decorative edge detail.
2. Go big with an Island Bench top
Not only are island benches synonymous with the Hamptons style, but the amount of space that they provide you while you're cooking is amazing.
While not all spaces can accommodate a big island bench, you can still create the beachy style with natural stone materials, Of course, if you can't afford stone, there are some much more affordable laminate options that mimic the look of natural stone and look like the real deal.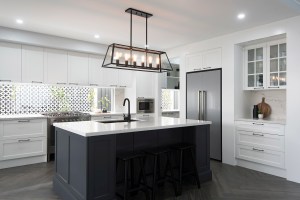 3. Brighten the room with pendant lights
Every kitchen needs good lighting and for a Hamptons style pendant lighting really is key!
Hanging the pendants over your island bench top will act as a great statement piece in the room all while making sure you never have to cook in the dark!
4. Farmhouse style sinks are key
Forget your stainless steel, a Hamptons kitchen deserves a luxurious sink and a white, porcelain, farmhouse style sink fits the bill.
Not only do they look the part but they're also really practical because of how deep they typically go.
5. Tiled pattern splash back as a feature
With the Hamptons style being quite neutral, the splash back is an opportunity to let your creative side out and create a real feature in your kitchen.
Tiled splash backs are most common within this trend and as long as you stick to the natural or pastel colour palette, you can't really go wrong because it certainly won't clash with anything else in the room!
With a Hamptons style kitchen you can imagine you're off on a relaxing, beachside holiday every single day of the week! Check out Timpelle Kitchens for all of your kitchen needs right here.
Want more? Get more from Kyle & Jackie O!