With drought ravaging the countryside, most Aussie farmers are doing it extremely tough at the moment.
Things are so bad for one rural NSW family that their young daughters have taken it upon themselves to reach out for help and create awareness.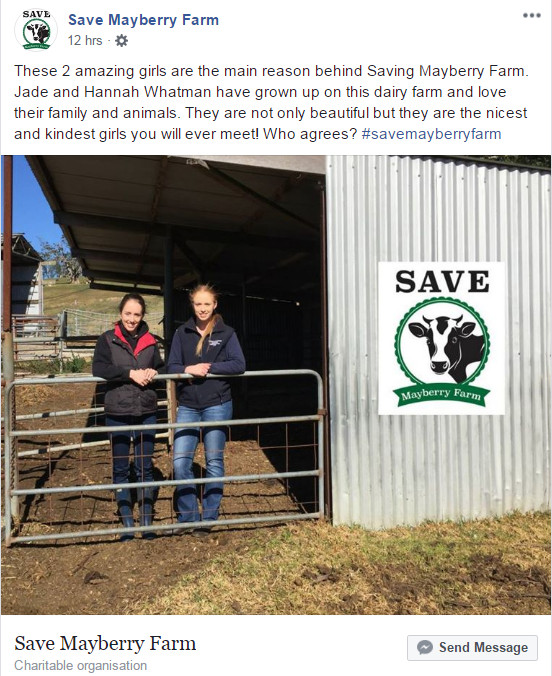 Mayberry Farm is a dairy farm in Burrawang that has been struggling to feed it's livestock due to the combined effects of the drought and the deregulation of dairy products.
With the situation looking dire, Jade and Hannah Whatman decided to write an open letter explaining their families plight and pleading for help to keep the family business running: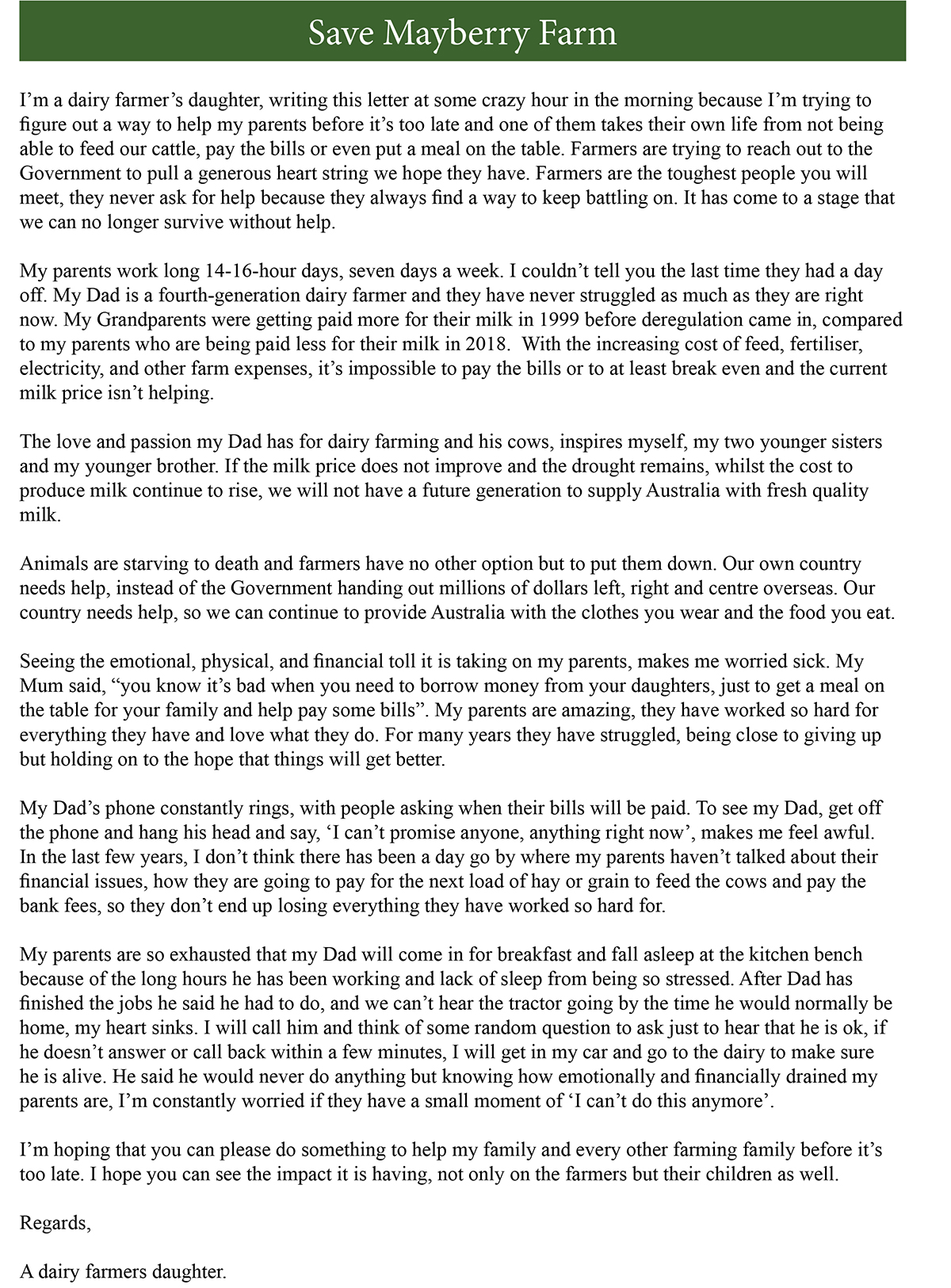 I'm a dairy farmer's daughter, writing this letter at some crazy hour in the morning because I'm trying to figure out a way to help my parents before it's too late and one of them takes their own life from not being able to feed our cattle, pay the bills or even put a meal on the table. Farmers are trying to reach out to the Government to pull a generous heart string we hope they have. Farmers are the toughest people you will meet, they never ask for help because they always find a way to keep battling on. It has come to a stage that we can no longer survive without help.
My parents work long 14-16-hour days, seven days a week. I couldn't tell you the last time they had a day off. My Dad is a fourth-generation dairy farmer and they have never struggled as much as they are right now. My Grandparents were getting paid more for their milk in 1999 before deregulation came in, compared to my parents who are being paid less for their milk in 2018. With the increasing cost of feed, fertiliser, electricity, and other farm expenses, it's impossible to pay the bills or to at least break even and the current milk price isn't helping.
The love and passion my Dad has for dairy farming and his cows, inspires myself, my two younger sisters and my younger brother. If the milk price does not improve and the drought remains, whilst the cost to produce milk continue to rise, we will not have a future generation to supply Australia with fresh quality milk.
Animals are starving to death and farmers have no other option but to put them down. Our own country needs help, instead of the Government handing out millions of dollars left, right and centre overseas. Our country needs help, so we can continue to provide Australia with the clothes you wear and the food you eat.
Seeing the emotional, physical, and financial toll it is taking on my parents, makes me worried sick. My
Mum said, "you know it's bad when you need to borrow money from your daughters, just to get a meal on the table for your family and help pay some bills". My parents are amazing, they have worked so hard for everything they have and love what they do. For many years they have struggled, being close to giving up but holding on to the hope that things will get better.
My Dad's phone constantly rings, with people asking when their bills will be paid. To see my Dad, get off the phone and hang his head and say, 'I can't promise anyone, anything right now', makes me feel awful. In the last few years, I don't think there has been a day go by where my parents haven't talked about their financial issues, how they are going to pay for the next load of hay or grain to feed the cows and pay the bank fees, so they don't end up losing everything they have worked so hard for.
My parents are so exhausted that my Dad will come in for breakfast and fall asleep at the kitchen bench because of the long hours he has been working and lack of sleep from being so stressed. After Dad has finished the jobs he said he had to do, and we can't hear the tractor going by the time he would normally be home, my heart sinks. I will call him and think of some random question to ask just to hear that he is ok, if he doesn't answer or call back within a few minutes, I will get in my car and go to the dairy to make sure he is alive. He said he would never do anything but knowing how emotionally and financially drained my parents are, I'm constantly worried if they have a small moment of 'I can't do this anymore'.
I'm hoping that you can please do something to help my family and every other farming family before it's too late. I hope you can see the impact it is having, not only on the farmers but their children as well.
Regards,
A dairy farmers daughter
If you would like to see how you can help, you can visit the Save Mayberry Farm Facebook page or their website: www.savemayberryfarm.com
Love this? You'll love this bit from Will & Woody – catch the boys weekdays from 4PM on KIIS 1065