It took everyone by surprise when Demi Lovato and Wilmer Valderrama announced that after 6 years together they would be going their separate ways.
They seemed like such a beautiful couple, so in love and supportive, but their joint statement made us think that the mutual love and respect definitely remained.
"After almost six loving and wonderful years together, we have decided to end our relationship," Demi and Wilmer each wrote. "This was an incredibly difficult decision for both of us, but we have realized more than anything that we are better as friends. We will always be supportive of one another. Thank you to everyone who has offered us kindness and support over the years. With only love, Wilmer & Demi."
However, that all may have changed once Wilmer discovered who Demi's new leading man is… According to various reports, Demi has chosen to move on with MMA Pro Fighter Guilherme 'Bomba' Vasconcelos.
According to reports, Demi is "just having fun" with the tattoo-clad fighter – but it still may be a hard pill to swallow for Wilmer, as Guilherme is about as buff as they come.
It also seems like 23-year-old Demi has had her eye on Guilherme for at least a month, as he posted a snap to Instagram showing the fighter next to the fresh-faced singer after a sparring session.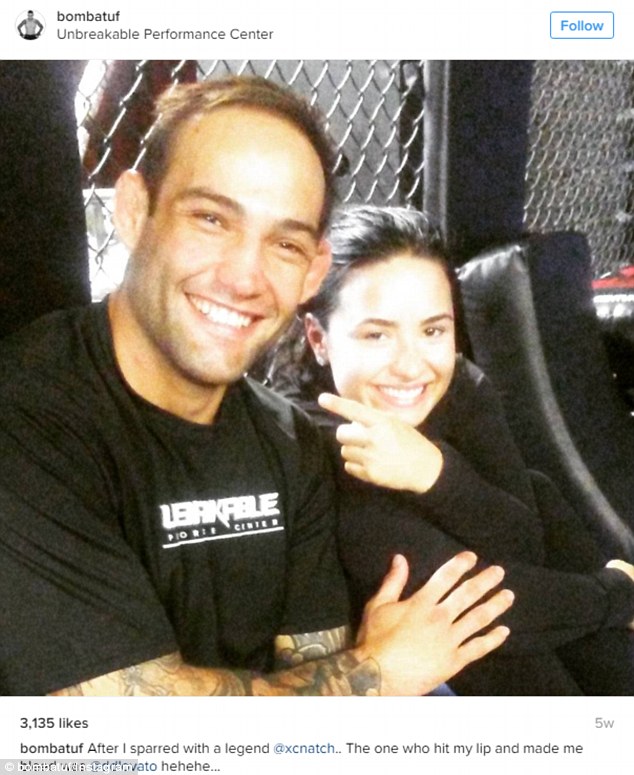 He captioned the photo, 'After I sparred with a legend @xcnatch.. The one who hit my lip and made me bleed was @ddlovato hehehe…'
A few weeks later, he posted a video to his feed showing him walking along after an apparent win in the ring on June 24, but stopped when he saw Demi in the front row and hugged her!
HOT COUPLE ALERT!
Source: Daily Mail
Want more? Get more from Kyle & Jackie O!