For everything Usain Bolt achieved in Rio, it has been overshadowed by what he got up to after the racing was over.
He made headlines around the world with his cheating scandals, as he bed-hopped his war around Rio, despite having a beautiful partner.
Kasi Bennett, Usain Bolt's partner or 'First Lady' as she's been dubbed, has now spoken out – in a sense – first 'liking' a tweet saying Bolt cheated on a 'goddess' and then a side-by-side that's sparked big attention.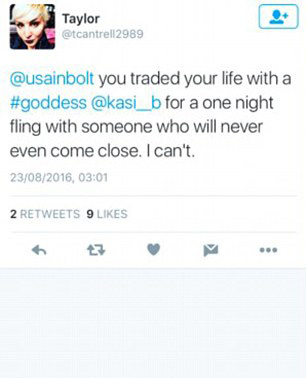 Miss Bennett liked a meme on Instagram that shows her and Brazilian, Jady Duarte (who released photos of her in bed with Bolt) pictured side by side with the caption: "When you girl is Selfridges, and you cheat on her with Primark' Bolt's sister, Christine Bolt-Hylton, 32, said that they are a solid couple and will stay together because they are so in love. 'I'm sure Kasi will be used to it by now.
Jady Duarte reveals EVERYTHING about bedding Usain Bolt https://t.co/Ja92ujJDZU pic.twitter.com/aPtmTYNcaz

— The Sun (@TheSun) August 24, 2016
She is used to seeing pictures like this. 'People ask for pictures with him and he is always willing to have pictures. She is used to him being in the public domain.'
'I don't think anything happened between him and the Brazilian girl,' she added of the snaps with Jady. He loves Kasi too much to jeopardise the relationship. 'I'm looking at the pictures and it doesn't look like he was doing anything with her.'
Usain Bolt kisses ANOTHER mystery woman hours before 'spending night' with drug lord's widow https://t.co/pQv6alHASX pic.twitter.com/VSroc1iqZP

— Daily Mail Online (@MailOnline) August 22, 2016
Asked if Kasi will be upset, Christine, who is Usain's half-sister, continued: 'The pictures are of a young girl. I know she will be upset.
Used to love @usainbolt because not only was he an amazing athlete, but he seemed like a lovely person. Now, I know he's just a #cheater

— Taylor (@tcantrell2989) August 23, 2016
But she will talk to him and I know they can work their difficulties out. 'Usain doesn't believe in cheating. Normally when we speak he sees he is against stuff like that.
He has never done this before as far as I know. 'When he was much younger he was popular with the girls but from when they have been together he hasn't done anything like that.
Sooooo she should be used to it, but he's never done it before?
Right…
Love this? You'll love this bit from Will & Woody – catch the boys weekdays from 4PM on KIIS 1065