The early reviews for Marvel's new spin-off are in and O boy, we cannot wait to binge this!
Releasing in Australia on Wednesday 9 at 5:00pm AEST on Disney+, Loki has been one of the most highly anticipated stories by Marvel fans. The new tv series is set after Avengers: Endgame and follows the God of Mischief, Loki (Tom Hiddleston) as he has to answer for his crimes against the altered timeline.
The synopsis states: "Picking up immediately after Loki steals the Tesseract (again), he finds himself called before the Time Variance Authority, a bureaucratic organization that exists outside of time and space, forced to answer for his crimes against the timeline and given a choice: face deletion from reality or assist in catching an even greater threat."
Twitter has gone wild with excitement, with one person saying: "Think I'm now allowed to say that I really enjoyed #Loki! Weird and funny and very much a TV SHOW (rather than a "6-hour movie")in the best way."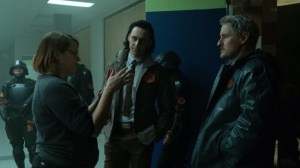 Another review states, "Early review for #Loki — first two episodes are pure Marvel magic."
"Easily one of the best Marvel projects ever and that's not an exaggeration. This will wake up anyone who is tired of MCU projects. #Loki reminds us why Marvel is so good at what it does."
Not only does Loki have raving reviews for those who have been lucky enough to see it early, but Tom Hiddleston confirmed that Loki will be genderfluid. The decision wasn't a move from Disney to be progressive but is a nod to the comic book and mythological history.
"It's always been there in the comics for some time and in the history of the character for hundreds, if not thousands of years," Hiddleston said. Head writer Michael Waldron added, "I know how many people identify with Loki in particular and are eager for that representation, especially with this character."
You can catch the first episode of Loki on Disney+ at 5:00pm AEST.
Want more? Get more from Kyle & Jackie O!