In the beginning, Josh Pihlak and Cathy Evans seemed to be the perfect couple. Unfortunately, over the last few episodes, it seems to have unravelled after multiple tiffs, many tears and one scary mum!
Over the last week, footage and images of participants in previous entertainment roles and appearances surfaced. There is always a suspicion that those who apply for the show are looking for more than a lifetime of love, and fans love to dig out the dirt.
Cathy was one of the participants to be caught out after multiple headshots and a photo from her graduation from performing arts school was found.
A post calling her out had appeared on the mafsfunny Instagram fan account, which was then reposted after being seen by someone in particular… her hubby Josh. In fact, he liked it!
His 'like' already tells a story, but then he went on to comment on the second post and this time, he threw in a very cheeky comment.
"Good husband should always support his wife's passions." Ooh.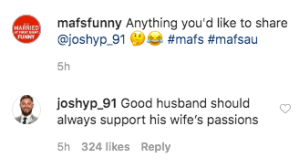 AND to make things crazier, Hayley Vernon (yep, HAYLEY) joined in too, giving her own two cents.
"That he thought all along," she said. Ouch.
As time goes on, things become harder to believe. We really want to hope Josh and Cathy can hang on and this is all to throw us off.
Want more? Get more from Kyle & Jackie O!