A toddler has narrowly escaped death when the 21-month-old got strangled in her 10-year-old sister's hair as they slept.
Amanda Lee woke up at 3am to the sound no parent wants to hear – her daughters' screaming.
She found her youngest daughter, Taleisha struggling to breathe as she was caught in her older daughter, Rhianna's hair.
Hair accidentally wrapped around Taleisha's neck, leaving bright red friction marks.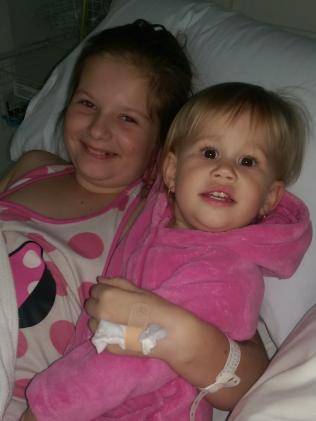 The 36-year-old told Quest: "Her blood vessels were popping out… My partner Donny yelled out for scissors and cut it off. Then we called the ambulance."
The mother-of-three said Taleisha regularly sneaks into Rhianna's bed, but had no idea of the dangers.
Now, Mrs Lee has warned of the dangers over Facebook, in a post that has been shared over 73,000 times.
"I don't want another family to go through this so please if you co-sleep or your kids share a room and have long hair tie it up or plait it."
Photos: Facebook
Love this? You'll love this bit from Will & Woody – catch the boys weekdays from 4PM on KIIS 1065