We've all experienced the Instagram anxiety of "Will my photo hit 11 likes?" because we all want to usernames under our photo to turn into numbers!
Now Instagram have been trialling a new "liking" system, where they begin to show single digit numbers, instead of showing the first few users who like your photo until it gets to 11 likes.
Now you can find some solace in not having to scrape for 11 likes on a photo.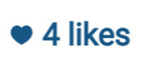 Absolute game changer now Instagram comes up with "8 likes" instead of people's names, no need to scrape 11 anymore 😂😂😂😂

— leah (@_LEAHMARSH) February 17, 2016
Instagram doesn't show names of your likers anymore even if you have less than 11. Game changer for teens, I predict pic.twitter.com/JlhnIk8aFJ

— Maya Kosoff (@mekosoff) February 18, 2016
The change is available on the Instagram apps, but not on the website version. (Who even uses it anyway?)
H/T Cosmopolitan