St John Ambulance Australia, in consultation with the TGA, is conducting a recall on all electronic thermometers supplied in the Tiny Tots First Aid Kits.
Even though these thermometers are not intended for use by children, it's been discovered that the top of the instrument, shaped like a duck, can be removed which provides access to the button battery.
This battery could cause chemical burn injuries if not handled properly, which could lead to permanent injury or death.
The battery is also a choking hazard.
If you use or have a St John Ambulance Tiny Tots First Aid Kit, remove the electronic thermometer and discard it. You can contact St John Ambulance for a free replacement electronic thermometer by phoning 1300 956 625 or by emailing team1@stjohn.org.au.
If you suspect your child has swallowed or inserted a button battery, immediately call the 24-hour Poisons Information Centre on 13 11 26 for advice.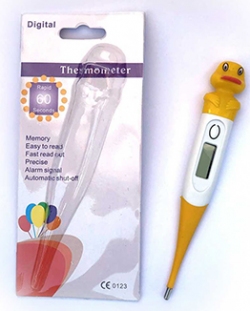 Want more? Get more from Kyle & Jackie O!