As kids across Australia prepare for NAPLAN today, there's one message they should all read first.
These Queensland teachers are reminding students that there are some things the national test just can't tell – including how "amazingly special" they are.
Father, Paul Lawrie, shared the letter on Facebook after it was sent home with his child. Unsurprisingly, it has since gone viral.
Writing to their year three students, Mrs Egan, Mrs Schluter and Miss Bailey, share that there is one important thing their students should realise before they take the test.
"This test does not assess all of what makes each of you exceptional and unique," they write.
"The people who score these tests don't know that some of you love to sing, are good at drawing or can teach others how to use a computer program.
"They have not seen the way that some of you can dance with grace or speak confidently to a large group. They do not know that your friends count on you to be there for them when they are sad."
The letter goes on to tell students: "They do not know that you are caring, thoughtful and that every day you do your best. Because these attributes cannot be tested."
We couldn't have said it better if we tried.
Read the full letter: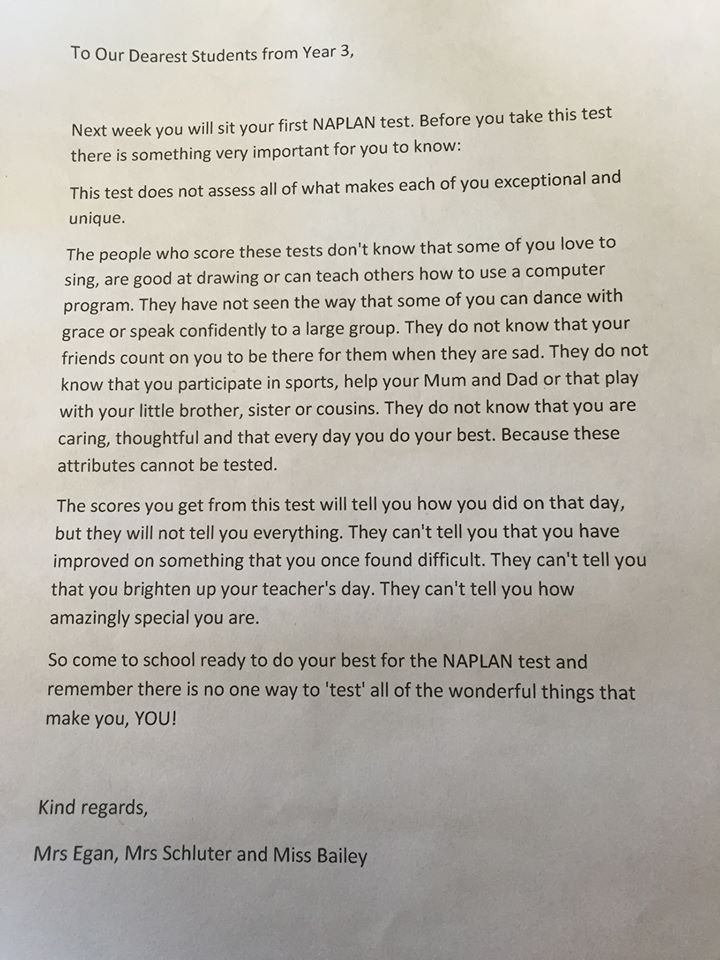 Love this? You'll love this bit from Will & Woody – catch the boys weekdays from 4PM on KIIS 1065