How much is too much when it comes to the big boss' salaries?
Well, according to the Australian Council of Superannuation Investors, $36,837,702 is too much. That's how much the Domino's CEO, Don Meij, took home in the 2017 Financial Year.
The average Australian full-time salary in 2017 was $84,661, according to the Australian Bureau of Statistics.
But Don Meij is not alone when it comes to big bucks: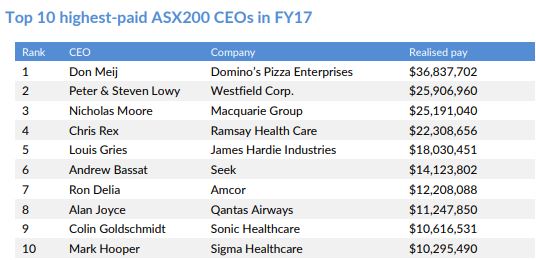 To top it off, ACSI's 2018 report reveals that CEO bonus payments are up more than 18 per cent, with the median bonus awarded to an ASX100 CEO at 70.5 per cent of their maximum entitlement.
"At a time when public trust in business is at a low ebb and wages growth is weak, board decisions to pay large bonuses just for hitting budget targets rather than exceptional performance, are especially tone-deaf," ACSI CEO Louise Davidson said.
"This may be a sign that boards have lost sight of the link between a company's social licence and the expectations of communities and investors."
Want more? Get more from Kyle & Jackie O!