We really didn't think we could get much worse than Dave's bizarre behaviour at the beginning of his and Jess' honeymoon; between picking at his toenails in their hire car, leaving his new wife to flounder in choppy surf and describing their "zen retreat" as "f**king weird", the Married at First Sight contestant really wasn't off to a strong start.
But the "absolutely bulls**t" reason he gave his bride for calling quits on their four-day marriage has landed the 28-year-old accounts manager in a lot of hot water with viewers, after he blamed Jess' body insecurities for his behaviour.
"You owned the wedding day, you were confident," he told the 31-year-old. "But insecurities have come out and I didn't mean to hurt you or anything like that but I just don't see it going anywhere to be honest and I think it's better to tell you now than in a few week's time."
The abrupt turn-about came after Jess opened up to her new husband about her body issues, explaining that she felt vulnerable in a bikini.
And while she certainly wasn't afraid to stand up for herself, immediately packing her bags and telling him that she was "a confident person, regardless of what you think", it wasn't long before she had plenty of support from the show's fans.
"Dave's a jerk," one Facebook user commented. "No ability to empathise or support, which he could have done. You deserve better."
Another wrote: "Jess, you deserve nothing less than the best. You are so beautiful, funny and kind-hearted. You did the right thing by confronting the elephant in the room, as hard as it must have been for you."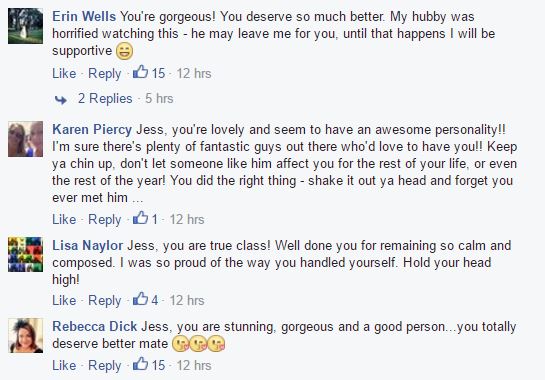 When the pair arrived back in Sydney – separately – Jess was seen confiding in a friend, admitting that she couldn't work out what had gone wrong in the days between between their "amazing" wedding and the awkward honeymoon.
"It's really disappointing, I don't get it, I don't understand what changed," the banking officer said.
"We had such an amazing wedding and now four days later he completely changed the person he was."
Dave, on the other hand, had nothing more to say on the matter; sprawled across the sofa in his bachelor pad, remote control in one hand, he shrugged: "Back to reality I suppose."
Jess, we're calling it.
You dodged a bullet.
Love this? You'll love this bit from Will & Woody – catch the boys weekdays from 4PM on KIIS 1065