While a lot of the guys on Love Island have managed to find love, one of the season favourites Justin is sadly not one of them. He revealed to Kyle and Jackie O this morning during our massive Love Island reunion that he is still single and ready to mingle.
"Have you found love now?" asked Jackie.
"No, I've gone on a couple of dates so it's been good but it's a bit tough," revealed Justin. "There is a lot of fans and probably for everybody, so it is a bit difficult to sit down and actually really focus."
So if you're keen to hit up Justin, form an orderly line ladies. And we reckon after this chat went to air this morning the chicks will come a flocking!
Why? Because the girls on Love Island revealed that Justin, who already has male model good looks and a hilarious personality going for him, also has a MASSIVE penis.
"I've seen it," said Justin's ex-partner from the show Millie in-between giggles. "Well there's one shower there so we've all seen everyone," she added to clarify that she hadn't seen Justin's 'thang' for romantic reasons…
When asked to give a description of the, uh, member, Millie realised that she'd stuck her foot in it and became a tad awkward.
"Look it's definitely on the upper side of average, it's pretty, yeah…I've seen it. Yeah, it's like, big," she said stumbling through her answer. Abort Millie, ABORT!
But luckily, Tayla came to Millie's rescue and she actually gave us a visual representation of the, er, size. For all of those who were listening at home and didn't get to see this, just take a squiz at the below image.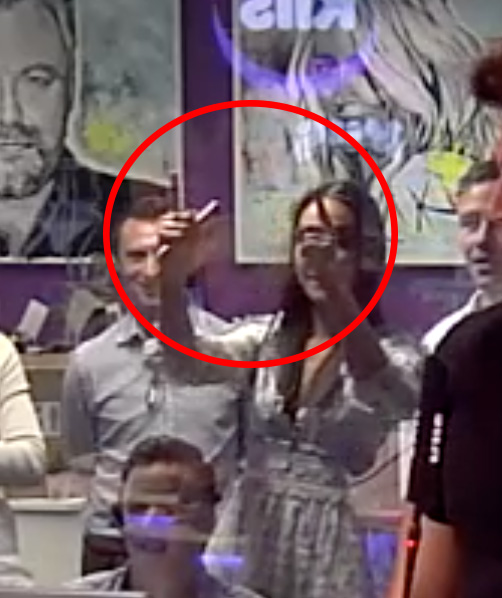 Now pick your jaw up off the floor because it gets better. Tayla, in front of her boyfie Grant not only confirmed that Justin's pee pee was in fact humongous, but it was the BIGGEST one she'd ever seen!
"Okay can I just say, Justin has the biggest willy ever," she said.
Ouch! That's gotta hurt hey Grant… Oh well, good news for anyone interested in Justin!
Watch The Full Love Island Australia Reunion With Kyle And Jackie O
Want more? Get more from Kyle & Jackie O!