WARNING: This article contains some spoilers
Ever wondered how Game of Thrones finds some of their more unique cast members?
Well we've been given some insight with the casting call for a 'Flasher' posted to Reddit following last week's season finale.
The role, which required one brave soul to flash their genitalia as Cersei made her walk of atonement in the final episode, certainly paid well at £900 GBD (approx $1800 AUD).
However being Westeros, it did come with some conditions.
Namely that anyone with genital abnormalities, piercings or a lack of public hair need not apply.
It certainly makes for an interesting screen credit on the CV!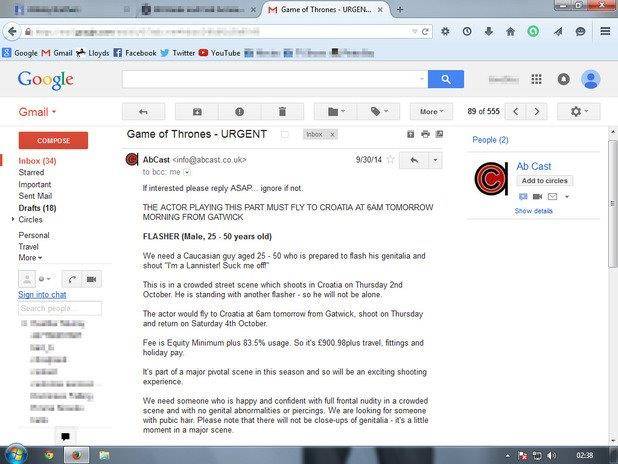 THE FULL CASTING CALL:
FLASHER (Male, 25-50 years old)
We need a Caucasian guy aged 25-50 who is prepared to flash his genitalia and shout "I'm a Lannister! Suck me off."
This is in a crowded street scene which shoots in Croatia on Thursday 2nd October. He is standing with another flasher – so he will not be alone.
The actor would fly to Croatia at 6am tomorrow from Gatwick, shoot on Thursday and return on Saturday 4th October.
Fee is Equity Minimum plus 83.5% usage. So it's £900.98 plus travel, fittings and holiday pay.
It's part of a major pivotal scene in this season and so will be an exciting shooting experience.
We need someone who is happy and confident with full frontal nudity in a crowded scene and with no genital abnormalities or piercings. We are looking for someone with public hair. Please not that there will not be close-ups of genitalia – it's a little moment in a major scene.
h/t Metro
Want more? Get more from Kyle & Jackie O!