If you missed out getting your hands on a Nintendo Classic Mini NES from Target's online store yesterday, you certainly weren't alone!
High demand for the wildly popular console caused Target's Aussie website to crash on Monday morning, leaving customers who missed out on the console infuriated, after sitting in checkout queues online for hours.
Many customers managed to get the item in their shopping cart, then when excitingly close to paying for it, the website would spit out an error message.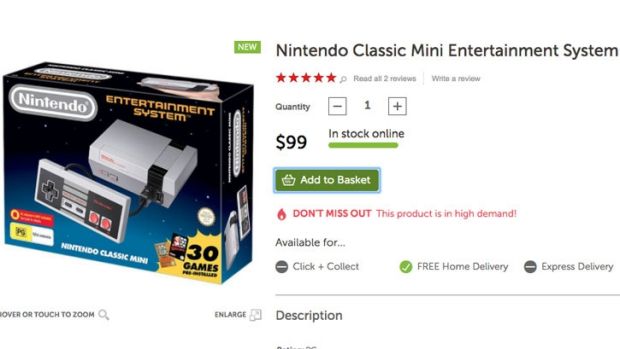 Unsurprisingly, some of the lucky shoppers who managed to buy the hot item have since listed them on eBay, priced at more than triple $99 retail price.
While Target have said that they can't officially confirm if more will be available, they have told some Aussie fans on Twitter to 'keep an eye out for updates'.
@leon__m Sorry to hear about the error! We can't confirm if more will be available, keep an eye out for updates over the next few weeks.

— Target Australia (@Targetaus) December 12, 2016
If the gaming gods deliver and Target decide to release more online, take note of Lifehacker's hottest tips to help increase your chances of scoring one online:
Use fast, reliable internet:
If your home internet is a bit rubbish, you might be better off buying through your smartphone.
Log in well before the sale starts:
Make sure you're on the product page fifteens minutes, at the latest, before release time. With that said, don't constantly refresh the page. The sale won't start before 8am, so hammering refresh will achieve nothing (except possibly crashing the website.)
use two devices:
Get a friend you can trust to follow the same process, thus doubling your chances.
make sure your shipping details can be auto-filled:
If the computer you're using doesn't have any of your details saved, sort this out ahead of time. If the fields can be auto filled, the checkout process will be much faster. (You can do this by purchasing a random product on Target's online store, paying for it online and immediately canceling it. The cookies relating to order processing will now be saved.)
If Target do indeed restock the console, we wish you luck!
DID YOU MISS OUT OR MANAGE TO GET A NINTENDO CLASSIC MINI NES THROUGH TARGET? TELL US IN THE COMMENTS SECTION BELOW…
Source: Lifehacker
TRENDING NOW: The First FULL LENGTH Trailer For 'The Fate Of The Furious' Is Here!
Want more? Get more from Kyle & Jackie O!