The finale of Ali Oetjen's season of The Bachelorette takes place tonight and of course we're feeling just a bit anxious after our trust and faith in reality TV love was shattered at this exact moment of Nick Cummins' season of The Bachelor.
It's a fight to the finish between two long-running season favourites, 28-year-old Taite Radley and 26-year-old Todd King as we're led to believe that one of them will end up with Ali after tonight's episode.
However, some spoilers have since risen leading us to think that it's highly possible that Ali Oetjen picks none of the guys tonight and is still single!!
Taite Radley And todd king spotted in fiji during bachelor in paradise filming before the bachelorette finale
Yesterday we reported that Bill Goldsmith had been pictured in Fiji on the set of spin off show Bachelor In Paradise and just hours later we saw him dumped from the Bachelorette mansion during last night's episode.
And now, both Taite and Todd have also reportedly been spotted in Fiji where Bachelor In Paradise is being filmed, making it seem as though neither of them end up with the blonde bombshell.
The photos were originally published in New Idea, and they show Taite along with a man they claim to be Todd sitting down in Nadi International Airport.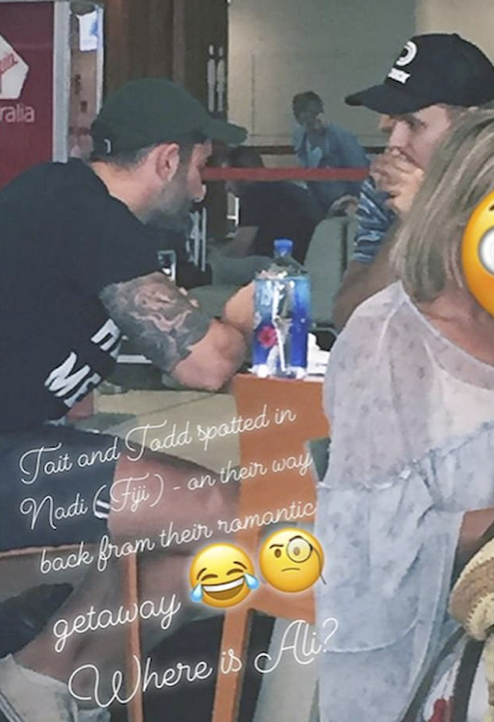 "They were just sitting there on their phones the whole time, 'a source from the airport sighting told New Idea.
"We thought they were waiting for their flight back to Sydney but they didn't get on our plane."
Taite is easily recognised in the image due to his unique arm tattoo, however, the man believed to be Todd is slightly covered by another woman. The pair are sitting across from each other at a table in the airport.
More: could ali oetjen pick no one too in the bachelorette finale?
This comes after Bill Goldsmith was photographed playing football with fellow Bachelorette reject Nathan Favro on what appeared to be the set of Bachelor In Paradise.
This latest sighting leads viewers to speculate that Ali's season ends just as miserably as the Honey Badger's with her picking no one.
Of course, it's also possible that Ali picks one of the men only to be rejected. This could also explain those intense finale promos which show Ali breaking down in tears.
There's also the third possibility that Ali and either Taite or Todd end up in a relationship during the finale, which was filmed in September, but have since broken up.
We guess we'll just have to wait and see what goes down tonight! The Bachelorette finale kicks off at 7:30pm on Channel 10.