Do you hear that? That faint sound of millennials all around the country screaming? It's the sound of all of us Avo lovers still absolutely REELING over watching last night's Bachelorette evictee Ivan make the biggest mistake in culinary history.
In case you missed it, the juiciest part of Ali Otejen's Bachelorette episode last night was the double date decider that saw Bill and Ivan go head to head with the fact that one of them would be sent home at the end looming over their heads.
But what made this pat of the episode SO DAMN GOOD was not for the reason you might expect.
The date saw Ivan and Bill forced to cook for Ali. Bill made the lunch while Ivan was challenged with tapping into Ali's sweet tooth with dessert. And what resulted was the funniest most stupid thing we have EVER SEEN. No joke.
Ivan was making a healthy version of chocolate mousse which required him to blend avocado until it was smooth. Simple right? Well not in Ivan's case…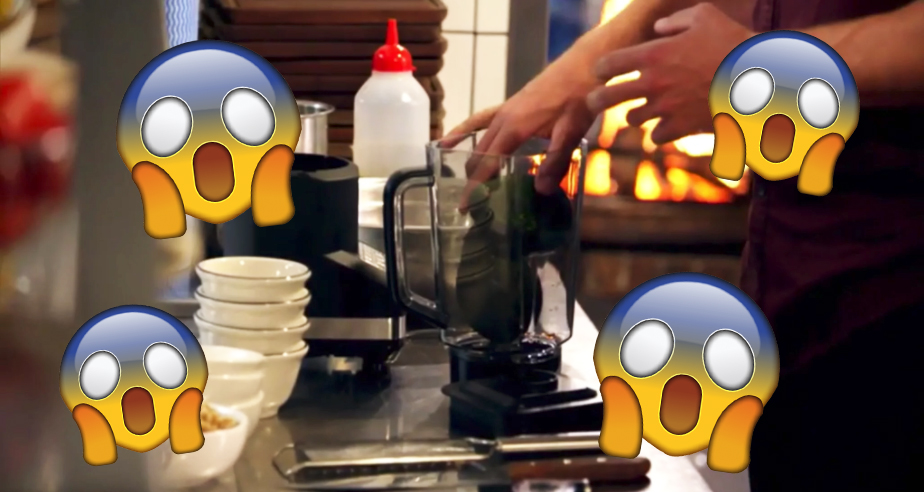 It seemed that Ivan didn't realise that the skin and pip of the avocado aren't actually edible because the dude literally just grabbed two whole avos, chucked them into a blender and turned it on!
When you put the whole avocado in the blender… 😂😂😂 #BacheloretteAU pic.twitter.com/JfACyQkvib

— #BacheloretteAU (@BacheloretteAU) October 24, 2018
It was the most CRINGE thing we have ever seen in the whole of TV history! And yes, that includes the time Ivan also tried to impress Ali with his Magic Mike inspired dance moves.
Ivan sure knows how to make a move! 🕺 #BacheloretteAU pic.twitter.com/vbCCV4mpwk

— #BacheloretteAU (@BacheloretteAU) October 10, 2018
Twitter appeared to agree with us on this one…
HAHAHAHHA I ACTUALLY CANT, IVAN PUTTING THE ENTIRE AVO IN THE BLENDER IS THE BEST THING ON TELEVISION THIS YEAR 😂😂😂😂🥑🥑🥑🥑#BacheloretteAU

— Nikki Brown💎 (@nikkkibrownn) October 24, 2018
Imagine the producer standing by watching Ivan trying to BLEND TWO WHOLE FUCKING AVOCADOS! #BacheloretteAU

— Edwin Smith (@edwin_smith1) October 24, 2018
I have so many questions!
1. Has he never seen an avocado before??
2. How did he get the blender to ACTUALLY BLEND THE AVO PIT??
3. When it started to smoosh the avocado, how did he not notice the pit??
4. Will Ali and Bill die from eating blended avocado pit??#BacheloretteAU

— Hailey. (@HAILEY_wood) October 24, 2018
I can't believe the best thing I've seen on a show about love is three adults eating whole blended avocado #BacheloretteAU

— francesca kenneally (@del0reangray) October 24, 2018
How has Ivan made it this far in life without knowing how to cut an avocado? #BacheloretteAU pic.twitter.com/WbsoMsKj4h

— This Is Hannoween (@hanaphylaxis) October 24, 2018

In the end, Ivan was the one let go from the date and we don't want to say his Avo faux pas had anything to do with it…but it definitely didn't work in his favour.
Speaking with the Kyle and Jackie O show this morning after being booted from the Bachelorette mansion Ivan explained that producers weren't the ones behind his Avocado blender blunder. It was all him.
"We wondered whether you were egged on by the producers to put the avocados in full. Was that something of your own doing or did you ask someone?" asked Jackie.
"That was definitely one of my moments. I have a few of those pretty regularly," laughed Ivan. "I'm obviously not skilled in the kitchen so yeah, that's just another one of my debacles in the kitchen.
"I've roasted a chicken into a brick recently," he continued.
Oh Ivan you adorable-dancing buffoon! We think it's definitely wise for you to stay out of the kitchen and just stick to the dance-floor from now on…
Want more? Get more from Kyle & Jackie O!