IF YOU MISSED THE EPISODE TONIGHT OR YOU JUST WANT A BIT OF A LAUGH, WE'VE RECAPPED THE WHOLE THING FOR YOU IN 60 SECONDS…
Well here we are – FINALE WEEK! It's been an exhausting ride but we've finally managed to get here as Nick 'The Honey Badger' Cummins is down to his final three gals. Brooke, Brittany and Sophie.
So pour yourselves a cuppa, sit on the couch and take a deep breath because we're about to delve into a doozy of an episode that is sure to leave you feeling just a tad heartbroken. Ya ready? Okay let's do this.
We jump into the second last episode of the season and my god is Honey Bachie being chased by a bear? He's sprinting, shirtless of course, through the bush as he thinks about the final three girls.
Running into the penultimate episode like… #TheBachelorAU pic.twitter.com/UJF137Rgz5

— The Bachelor Aus 🌹 (@TheBachelorAU) October 3, 2018
But it's not like your average jog that you do for exercise! He seems frantic! Maybe it's an omen about the tough journey that's ahead of him… hmm ominous.
But before we get too deep, we delve into a date with each of the girls. Up first is Sophie and the Honey Bachie has an adrenaline filled day planned for her.
First they fang around, as Nick would say, in a convertible. Don't ask us what sort….we're clearly here for the drama not the cars.
But not to worry because they're not staying on the ground for long! They're going skydiving! Soph looks like she's going to vomit and then pass out! We feel ya girl. This is probably the main reason we've never signed up for the Bachelor…There's always a skydiving date.
#AlwaysRememberLaurina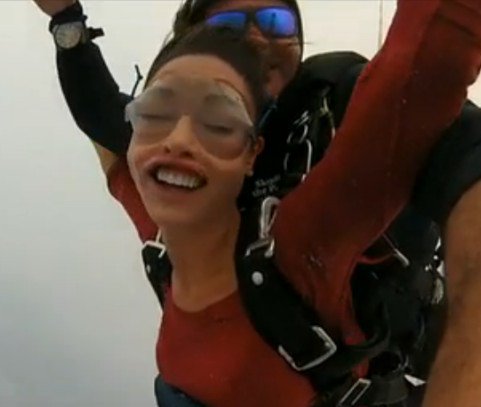 They're up in the air, the doors are open and Nick is literally about to jump, Soph's having a minor heart attack behind him, when suddenly the pilot shouts, 'ABORT! ABORT!'
There's too much wind and they're not allowed to jump…well that was anti-climactic!
The relieved pair head back to ground and to the usual set up – a couch, with candles and wine set up in front of a pool. It would almost be romantic if it wasn't the same bloody scene for EVERY. SINGLE. DATE this season.
But regardless, Soph loves it and she opens up to Nick telling him that she's really falling for him. They smooch. Overall a top notch date!
There it is! ❤️ #TheBachelorAU pic.twitter.com/eMNwVOGwze

— The Bachelor Aus 🌹 (@TheBachelorAU) October 3, 2018
Up next is the current front runner Brittany. Clearly the Bachie budget ran out with the convertible on Soph's date because Nick shows up in an old fashioned ice-cream van.
But hey the way to a girl's heart is definitely through her stomach if you ask us so fair play Nick. Fair play. And actually when we think about it, we'd much prefer being treated with ice-cream than going for an almost skydive any day.
An ice cream truck? Did someone say perfect date? 🍦 #TheBachelorAU pic.twitter.com/SYQV9oqK3B

— The Bachelor Aus 🌹 (@TheBachelorAU) October 3, 2018
But their date isn't all sweet. During what was supposed to be their happy wine time (on a couch, surrounded by candles and hmm no water this time…unique) turns into a bit of an interrogation from Brit.
After her hometown revelation she wants to know EVERYTHING that happened between the Honey Bachie and Cass before the show. The Honey Bachie remains pretty silent and takes a big gulp of wine before explaining:
"Oh struth Brit, well yeah, nah, we were just gym buds. I took her out for a few bites to eat but hey it's all in the past. There's no need to go off like a bag of cats. Crikey." Something along those lines.
Brit's impressed by his intellectual answer and rewards him with a big ol' smooch and she tells him that she's "all in" in their relationship.
Last but not least, it's Brooke's turn. The Honey Bachie pulls up on a motorbike and we have to day, damn he wears that biker look well…
How you doin'? 😉 #TheBachelorAU pic.twitter.com/QUCUo5uZOv

— The Bachelor Aus 🌹 (@TheBachelorAU) October 3, 2018
Brooke chucks on the spare helmet and jumps on the back so that Nick can take her to what he describes as an "intimate" date.
They're going to paint on each other's bodies! And crikey he wasn't wrong in saying it was intimate. We feel like we need to look away but like, we can't! Hot damn! You can"t deny that there two are just drawn to each other!
Too cute! #TheBachelorAU pic.twitter.com/TwynGmjEhk

— The Bachelor Aus 🌹 (@TheBachelorAU) October 3, 2018
After they clean up they head to the couch for some real talk. Brooke explains that she's falling pretty hard for Nick, but she feels nervous about how he feels about her and wants reassurance.
Nick goes on a spiel about how difficult it's been for him to come to terms with the fact that he's developed feelings for more than one person. And TBH we feel so sorry for him! Maybe, if the rumours end up being true, and he chooses no one, it's simply because he was actually in love with them all and couldn't choose?
Brooke's left feeling unsure about where she stands and this is what leads us to one heck of an emotional rose ceremony.
Before Nick even shows up, Brooke walks out of the rose ceremony to find him. Oh god, oh god, oh god it's happening. Our hearts can't take it! She's breaking up with the Honey Bachie! This is us right now.
Our hearts! #TheBachelorAU pic.twitter.com/gnQZcHCHva

— The Bachelor Aus 🌹 (@TheBachelorAU) October 3, 2018
We've never seen the Honey Bachie so emotional before. He's absolutely crushed by this and our hearts ache for him! But despite his heartache he walks Brooke to the limo and gives her one final goodbye.
💔💔💔 #TheBachelorAU pic.twitter.com/NWGoXx3oaD

— The Bachelor Aus 🌹 (@TheBachelorAU) October 3, 2018
Phewww what an emtoinally exhausting episode. If this was how we feel about tonight how are we going to feel watching the finale tomorrow? Someone pass the wine…
Want more? Get more from Kyle & Jackie O!