Arnold Schwarzenegger would like a part in Game Of Thrones, and he knows just the man to get the gig.
It turns out the actor is a big fan of the popular fantasy drama, which is directed by Alan Taylor, the man behind the camera on Arnie's latest movie – Terminator Genisys.
"I think it would be fun (to appear on Game Of Thrones) I don't know if he (Taylor) would ask me to do that, but I would work with him any time," Schwarzenegger has told AAP.
"It's a terrific show".
Schwarzenegger is in Sydney to promote his return to arguably his most famous role in a $US170 million reboot of the Terminator franchise.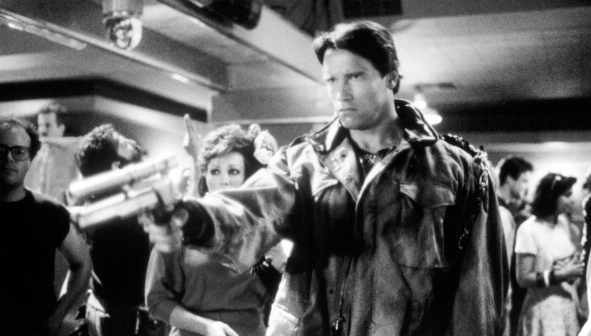 The action hero didn't appear in the fourth installment, Terminator Salvation in 2009 but he was pretty busy at the time working as Governor of California.
However, since finishing up his second term in 2011, he's making a comeback to movies. The actor is reprising his role in Terminator, also Conan the Barberian and there's even talk of a Twins sequel – with Danny DeVito and Eddie Murphy rumoured to be on board.
Terminator Genisys, is set in 1984, the same year the first film was made, with Aussie actor Jai Courtney playing Kyle Reese, a resistance fighter who is sent back to protect Sarah Connor.
In another Game of Thrones connection, Emilia Clarke, who plays Daenerys Targaryen in the popular show, takes on another iconic female role as Connor.
Even Schwarzenegger admits she had big shoes to fill taking over the role made famous by actress Linda Hamilton.
"The girl that plays Sarah Connor, Emilia, she does such a great job on that show (Game Of Thrones) so actually when I heard that she's going to be Sarah Connor I started watching the shows again to really focus on her and see what her performance is like. She's great," he said.
Schwarzenegger's ringing endorsement extends to the impressive training Clarke went through.
"She had this coach that was teaching her how to lose weight and how to harden up her body and to look like an action woman, and at the same time keep her femininity and sexiness of her appearance, as she always had," he said.
Schwarzenegger seems genuinely happy to be back in Australia, which he thinks is his 15th visit Down Under, and has great admiration for Courtney and his other Aussie co-star Jason Clarke, who plays John Connor.
"I think that in general I would say that I have great admiration for Australians that come over to America and try to make it in the movie business because they're very very disciplined," he said.
"It's very difficult to come from outside the country … As an immigrant you have to start from scratch," he said.
Schwarzenegger is certainly an immigrant's success story: from bodybuilding champion, to Hollywood actor to Governor of California, it's fair to say he's mastered many roles since his move to the US from Austria at the age of 21.
But he insists there's more of a link between his careers than people think.
"Well politics is like showbusiness too, and don't forget that," he said.
"Ronald Reagan always said there isn't much difference in acting and being a politician. You still have to perform as a politician, you still have to reach the people just like in showbusiness you're always in front of the camera."
He might have left the political arena but make no mistake about it, The Terminator is most definitely back.
Terminator Genisys opens in Australian cinemas on July 1.
AAP